NI Paper Review: NHS cancellations and GAA schools row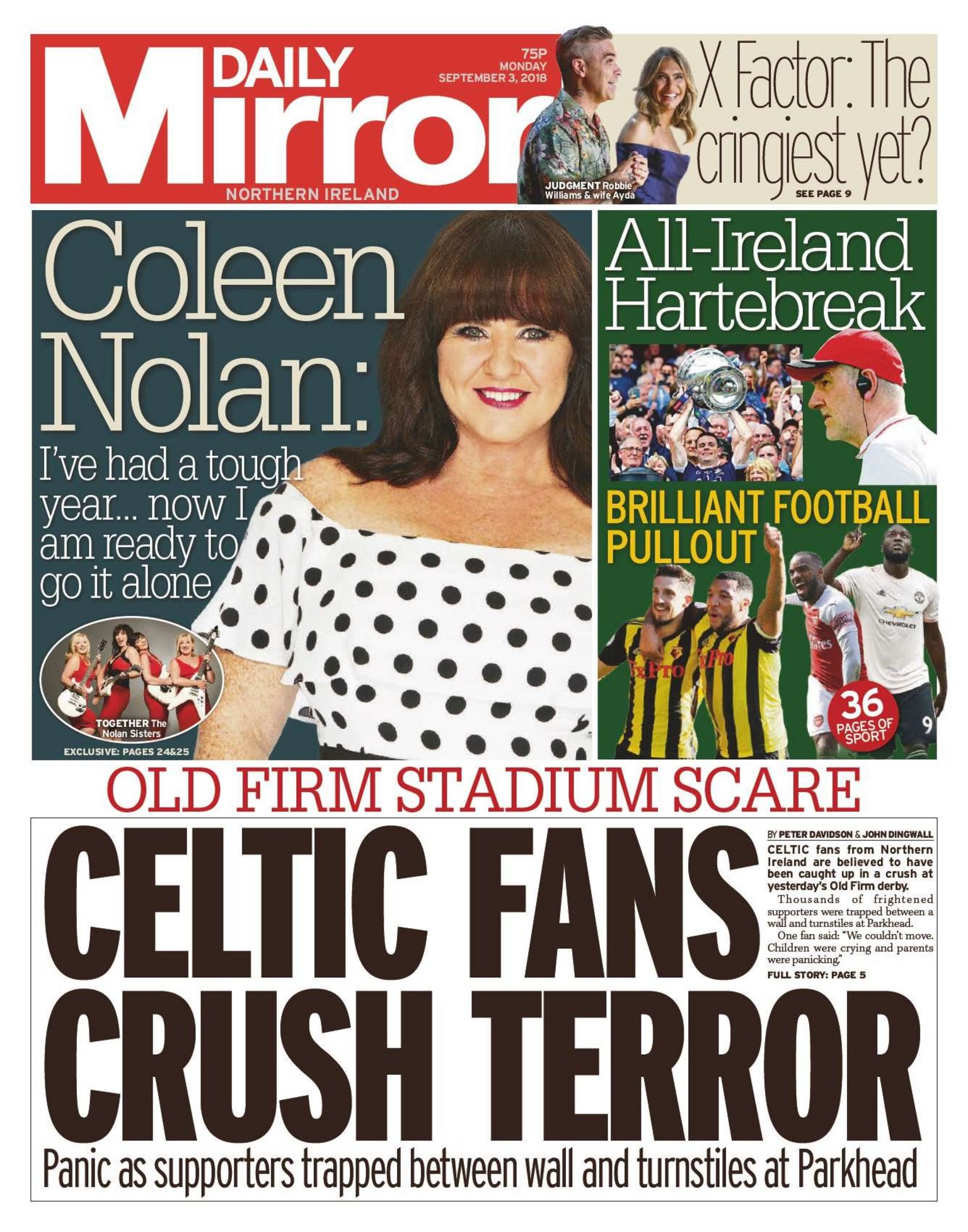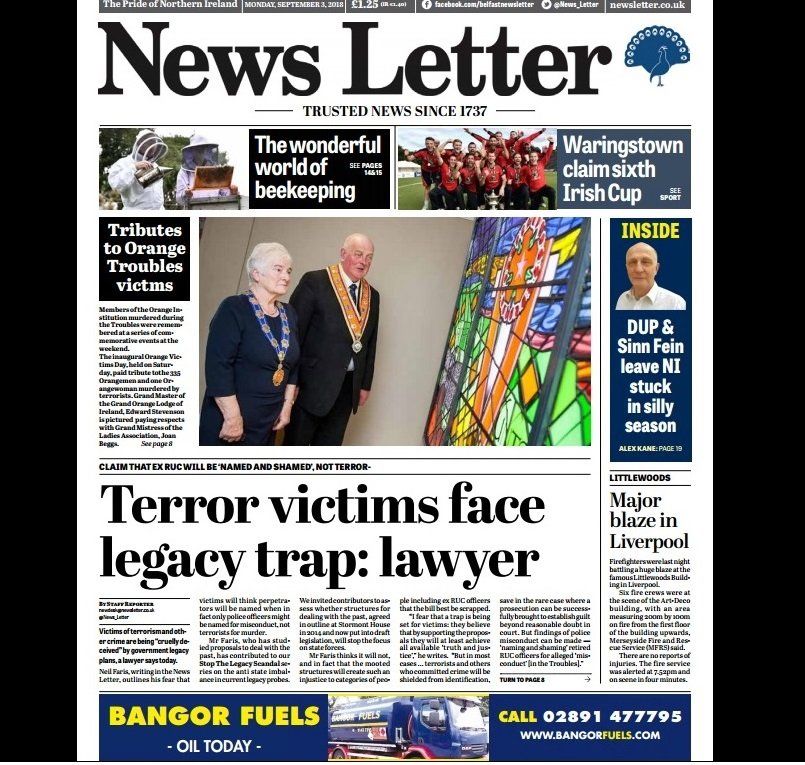 All of Northern Ireland's main newspapers lead with different stories.
The family of Jennifer Shirlow, who suffered a detached retina, say she would be blind if she had waited on an NHS appointment.
Two appointments at the Royal Victoria Hospital were scheduled for this week, but both were cancelled.
Mrs Shirlow's daughter-in-law, Sorcha Eastwood, who works for the Alliance Party, said that it was unbelievable that the NHS did not have enough surgeons available for such an urgent operation.
"This is meant to be our health service we all pay for, you expect it to be there for you in your hour of need."
The front page photograph shows angler Robert Malcolmson back out on the water just 24 hours after being attacked by a shark off the coast of County Cork.
One of his angling party said: "We were fishing for Blue Shark and had one on the line, and when we were taking it in, it just flipped over and snapped at Robert."
In The News Letter, lawyer Neil Faris writes of his fear that Troubles victims are facing a "trap" under the government's legacy proposals.
"I fear that a trap is being set for victims: they believe that by supporting the proposals they will at least achieve all available 'truth and justice'... but in most cases... terrorists and others who committed crime will be shielded from identification," said Mr Faris.
In keeping with the legacy-related theme, the newspaper's front page photo shows an image from the inaugural Orange Victims' Day.
Held on Saturday, it recalled members of the Orange Order who were murdered during the Troubles.
A photo of Tyrone's dejected GAA squad adorns the front page of The Irish News following their defeat to Dublin in Sunday's All-Ireland final, while the newspaper's main article warns of the possibility of full time being called on a project aimed at helping the next generation of GAA stars.
The newspaper reports that funding for GAA sessions for primary school children, which has received two last-minute reprieves in recent years, is facing the axe once more.
It comes after a recent High Court ruling cast doubt on major decisions being taken by civil servants in the absence of an Executive.
Former All-Ireland gaelic football winner and current SDLP MLA Justin McNulty tells the newspaper that the cuts are "another horrific example of the collateral damage of the ongoing political deadlock".
The Daily Mirror leads with a different sport story, describing the panic at Parkhead in Glasgow as Celtic fans became trapped between a wall and turnstiles during Sunday's Old Firm derby against Rangers.
Supporters from Northern Ireland are believed to have been caught up in the crush prior to the game, with people resorting to jumping over walls in a bid to escape.
Describing the scene, Celtic fan Aidan Kerr said that "children were crying and parents were panicking".
Inside the paper, the Police Federation warns that a lack of resources is the major reason for a recent increase in crime.
The amount of offences rose in five of the nine main categories last year.
Citing a shortage of officer numbers, federation chairman Mark Lindsay said; "That has real implications for caseloads. Some stuff won't be investigated, it puts people under real pressure."
With the public inquiry into the Renewable Heat Incentive (RHI) due to resume this week, The Irish News reports that Sinn Féin deputy leader Michelle O'Neill is not expected to appear as a witness.
Both the inquiry's spokesman and Sinn Féin have said that Ms O'Neill is not set to be called to give evidence.
She was the minister in charge of the Department of Agriculture and Rural Development (DARD) when it actively promoted the RHI scheme, but Ms O'Neill has always denied acting irresponsibly and has said that the problems were "entirely of the DUP's making".
The News Letter recalls the election of Belfast's first female councillor on this day 100 years ago.
Julia McMordie went on to become an MP for South Belfast in the first parliament of Northern Ireland and advocated equal allowances and pensions for female police officers.
A member of several committees covering health and education on the then Belfast Corporation, she said: "I love the work... I will do my best for the good of all sections of the community."
While many children may be groaning at the thought of a new school term beginning, for one family it is a milestone celebration.
Born at 25 weeks and weighing just 1lb 1oz, the prospects of Shea surviving until secondary school seemed remote at the time of his birth in 2007.