Brian Duffin: Councillor to appeal sex assault conviction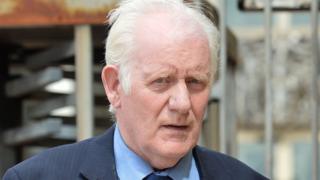 An Antrim and Newtownabbey councillor is to appeal his conviction for sexual assault in November.
Brian Duffin, from Cargin Road in Toome, was sentenced to four months in jail in August for kissing and sexually touching a 17-year-old girl at her home in June 2016.
The 73-year-old is on bail while he appeals his conviction and jail term.
The former SDLP representative now sits as an independent councillor.
He resigned from the party pending the outcome of the case.
Complaint
On Tuesday, a date for his appeal hearing was fixed for 27 and 28 November at Antrim courthouse.
A defence lawyer said the complainant and a police officer would be the only witnesses called for the appeal.
Last week, the local government standards watchdog said it had received a complaint that the Antrim and Newtownabbey Councillor had broken the Councillor's Code of Conduct.
When asked about it outside the courthouse Duffin said he was unaware of the complaint.