Casement Park: GAA say there is "not and cannot be a plan B"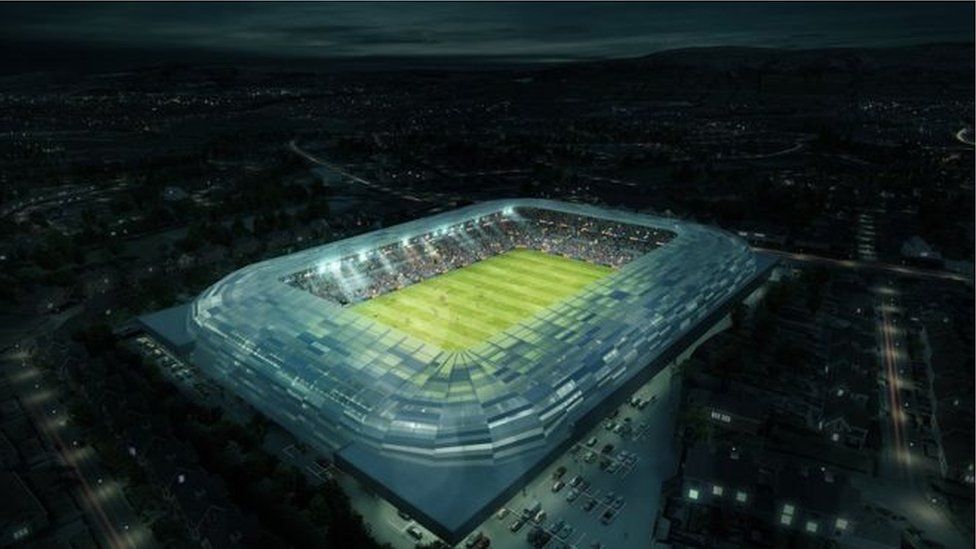 The GAA has said there is "no plan B" regarding the redevelopment of its flagship stadium in Belfast.
However, it added it remains focused on bringing the project "to a successful conclusion".
Re-iterating its objections to a 34,500 seater stadium, a residents group said it is time for a "serious re-think".
Residents have said they are not opposed to a smaller ground, but argue that a larger stadium will block out light, reduce the quality of life for those living close by and compound traffic congestion.
A fresh planning application was submitted in February last year and is now awaiting a formal recommendation and decision from the Department for Infrastructure.
This summer marked the 65th anniversary of the opening of Casement Park.
The multi-million pound redevelopment project has been beset with problems and delays.
The letter, released on Wednesday, states: "We also wish to make clear from a strategic GAA perspective that there is not and cannot be a 'plan B' in the context of a major provincial stadium at Casement Park.
"As our members are aware this is our third attempt (including the Maze/Long Kesh stadium) to deliver a modern fit for purpose venue for gaelic games in the Greater Belfast area.
"To give proper respect to the various planning and environmental issues, not to mention the funding provided by the NI Executive and the GAA, our previous work in this regard has been completed and we are entirely committed to seeing this project through to completion."
A spokesperson for MORA said that the GAA can offer no such assurances.
"Ulster Council GAA can offer no guarantee whatsoever that their planning application would be successful even with a minister in place.
"That reflects the range of problems with the current proposal for a 34,500 capacity Casement Park, such as traffic, parking, noise, overshadowing, environmental concerns and safe evacuation.
"In short, it really is time now for a serious re-think on the way forward for Casement Park. The possibility of a 'Plan B' has been raised by the Antrim County Board chairperson and we welcome discussion around what that might look like.
"We want to see a suitably sized redevelopment (e.g the stands no higher than the existing) and for sporting purposes only (no concerts). It should be a safe stadium, with a manageable capacity and no need for an additional exit at Owenvarragh Gardens," added the spokesperson for the residents' group.
The GAA said it had "comprehensively responded" to matters raised by statutory authorities and public comments,.
The letter states: "We ask simply for one thing... in the context of the future governance and decision-making arrangements that may be negotiated politically, that Casement Park is not allowed to suffer further delay."
The Casement Park Project Board said it intends to provide an update on the progress of the project by the end of the year.