Primark fire highlights vulnerable sites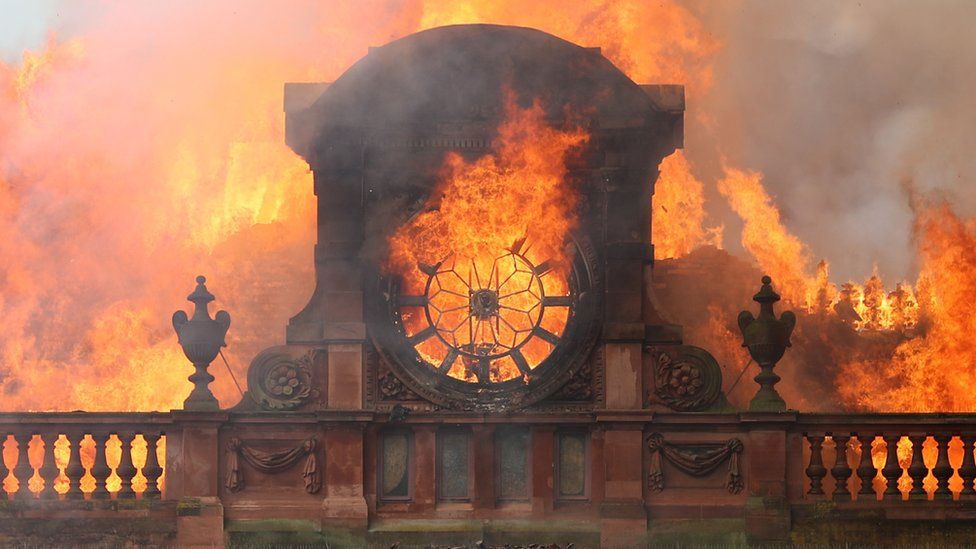 The fire at Belfast's Bank Buildings last week has brought Northern Ireland's attachment to our built heritage into sharp focus.
It also highlighted how vulnerable these assets can be.
There are 8,500 listed buildings in Northern Ireland, of which the Ulster Architectural Heritage Society believes about 500 are at risk.
Following the fire, the Bank Buildings will likely be added to that list in the coming weeks.
This weekend about 300 historical buildings will open their doors, for free, as part of European Heritage Open Days.
These have been running in Northern Ireland for more than 20 years and Iain Greenway, director of historic environment in the Department for Communities, said they would continue even after the hardest of Brexits.
"There are 53 other counties around Europe doing European Heritage Open Days this weekend," he said.
"Our neighbours in the south choose to do it on a different weekend, but there is absolutely no risk of it coming to a close.
"People love it and turn out in their tens of thousands."
Mr Greenway's currently department allocates about £860,000 a year to the Historic Environment Fund.
The fund aims to conserve heritage assets, as well as increase knowledge about the historic environment.
The top end of allocations for restorations is £50,000 and this year, 45 projects are hoping to secure funding.
With the restoration of Bank Buildings expected to run into millions of pounds, Mr Greenway admitted there was a funding shortfall.
"The Historic Environment Fund is about dealing with the extra cost of heritage repairs - for example authentic sash windows instead of plastic windows, things that make the places remain true to what they are," he said.
"It wasn't about the cost of repair or rebuilding. Now we are talking in the Department for Communities about how we make places. Heritage is a key part of that.
"We've had 45 applications for the repair element of the HEF. The amount of money is quite small and we are currently assessing those applications."
Despite such constraints, historic buildings continue to find new uses.
For example, the multi-million pound refurbishment of Killeavy Castle in south Armagh is taking a grade A listed structure off the at-risk register and transforming it in to a spa hotel.
And in Belfast, restoration work on Rosetta Cottages is expected to be completed in weeks, with residents moving in a short time later.
But the public is hungry for more.
In Warrenpoint, as in many other towns, campaigners want to see more made of their built heritage.
On the edge of the town, Narrow Water Keep sits at the mouth of Carlingford Lough.
It currently opens during the summer season and will also be open this weekend to mark European Heritage Open Day.
But Bill Reilly, of Warrenpoint Heritage Development Committee, wants to see the castle open all year. He also wants its sparse interior transformed into a living museum.
"This would attract more visitors and allow them to see what life was like from a real perspective, furnished exactly has it would have been in the 17th Century," he said.
"The open days showcase what could be done, not just here, but right around this coast - from Dundrum Castle, to Greencastle to Narrow Water."
Delivering projects of this nature will take time, money and patience - three things that were required to build them in the first place.