Ballymurphy: Judge hits out at Ministry of Defence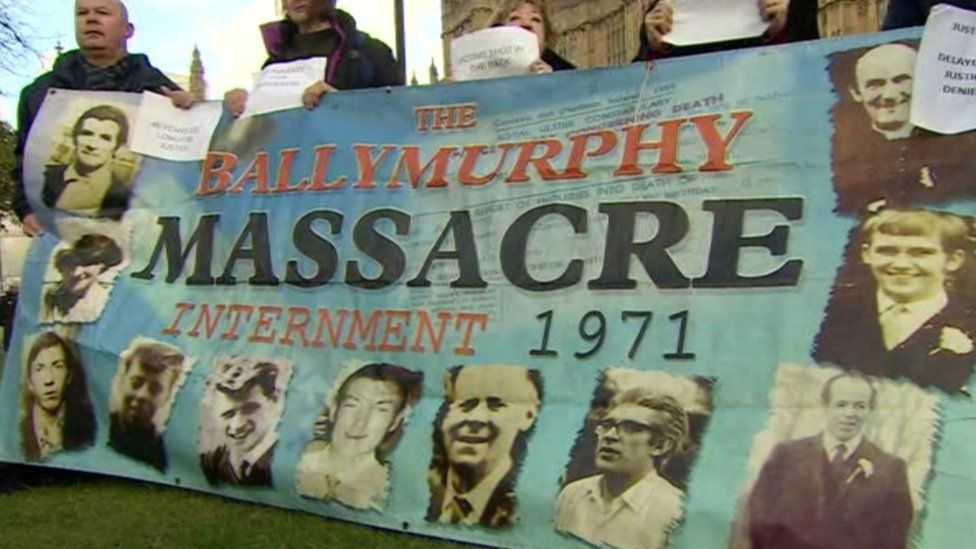 The Judge presiding over an inquest hearing into the Ballymurphy shootings said she expected a more open and collaborative approach on disclosures.
Mrs Justice Siobhan Keegan then singled out the Ministry of Defence (MoD).
But, she welcomed the establishment of a 10-person "checking team" to process documents sought by the inquiry.
Justice Keegan said she would not allow "checking and filtering" of documents to derail progress holding the inquests.
She reminded the MoD that there is an obligation to provide disclosure and she said this should be in an "intelligible format".
At the preliminary hearing on the inquests, Mrs Justice Keegan told victims' families that "a new page has been turned".
She said that while the inquests would not officially open next Monday, as scheduled, she will be setting a time frame and a timetable for the hearings on that day.
She also told the relatives she would not let the case drift over issues around disclosure.
Campaigners have always maintained that members of the Parachute Regiment were responsible for civilian deaths during three days of gunfire involving soldiers in Ballymurphy in August 1971.
Ten people were shot dead, including a priest trying to aid one of the wounded and a mother-of-eight. Another man later died of heart failure.
The shootings occurred amid disturbances sparked by the introduction of internment without trial in Northern Ireland.
Bereaved families have come to refer to the killings as the Ballymurphy massacre.
"Tidy-up the time frames"
On Monday a formal public hearing will be held in the High Court to "tidy up the time frames" and thereafter a meeting will be held every Monday involving the lawyers of all those involved in the inquests to review progress.
The judge has indicated that it's hoped to officially open the inquests in the first week in November.
There will be a full opening statement followed by "pen pictures" of those killed and some other witnesses before Christmas. The military witnesses are not expected to be called until January at the earliest.
During today's hearing the families thanked the Judge and applauded as she left the courtroom.