PSNI raid an 'attempt to intimidate journalists'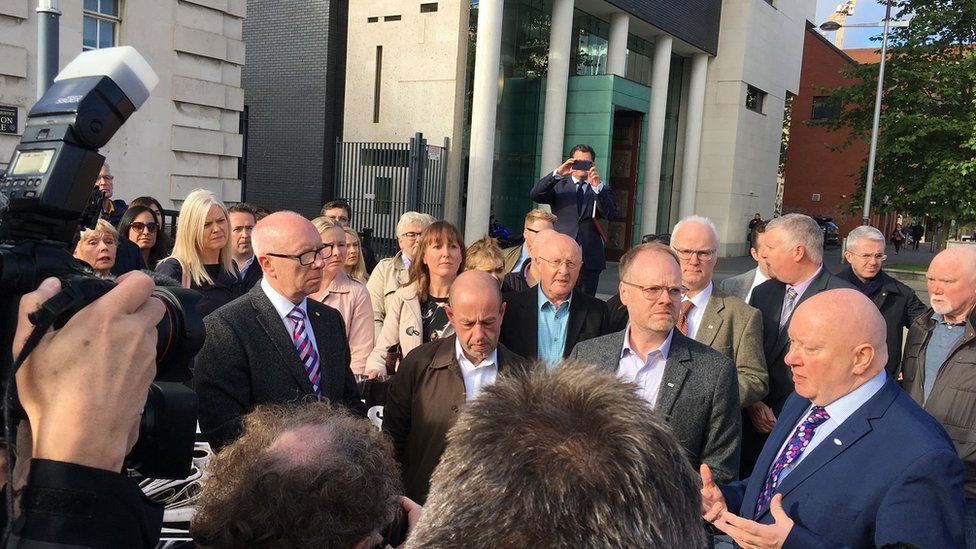 A search and arrest operation during an investigation into the suspected theft of confidential documents was an attempt to intimidate journalists, the High Court has heard.
A film company behind a documentary into the Loughinisland shootings has brought a legal action against the PSNI.
Fine Point Films is challenging the legality of the search warrant for their offices.
It produced the film No Stone Unturned.
The film examined the circumstances surrounding the murder of six men by loyalist paramilitaries in 1994.
Two journalists who made the film, Barry McCaffrey and Trevor Birney, were arrested as part of the PSNI operation.
They were questioned and released on the same day.
Detectives from Durham Constabulary, supported by officers from the PSNI, also searched two houses and a business premises in Belfast.
The investigation concerned the suspected theft of confidential documents from the Police Ombudsman's office.
In their application for judicial review, lawyers representing Fine Point Films claimed the search warrant did not cover all of the material seized.
Police have given an undertaking not to examine any of the documents and computer equipment pending the outcome of the legal action.
A lawyer for Fine Point Films said that "a vast quantity of journalistic material that has absolutely nothing to do with the investigation" was taken.
He said that an independent lawyer or retired judge should be appointed to examine everything seized by police, filter out anything not covered by the warrant and return it as a matter of urgency.
"We are conscious that this application gives rise to serious issues concerning freedom of the press and abuse of police powers which, in our submission, have been used to intimidate journalists and prohibit not only journalists but whistleblowers," he added.
"There is extensive material that has been seized by police which shouldn't have been seized by police and this company requires to have returned."
Lawyers for the PSNI confirmed none of the documents or computer files have been accessed.
He added that material may already have been returned to Fine Point Films had the legal action over documents seized not been taken.
Proceedings were then adjourned to take further instructions on the proposal for an independent assessment of everything seized by police.