Secrecy over bonfire costs is criticised by Alliance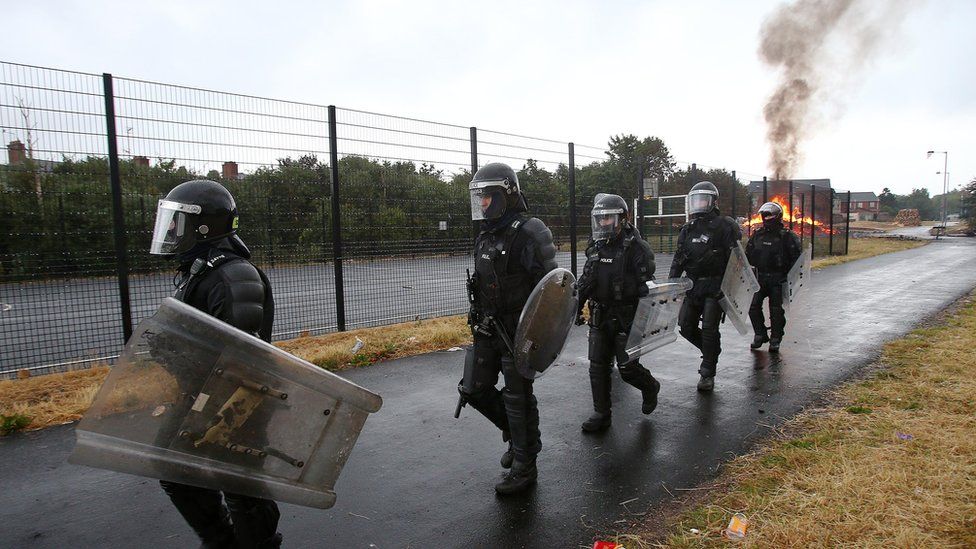 Secrecy over the cost of dismantling two bonfires in east Belfast in July has been criticised by the Alliance Party's leader on Belfast City Council.
Police stood guard as contractors removed bonfire material at Cluan Place and Bloomfield Walkway on 11 July.
Mr Long said it was "important that people know where their rates go to".
BBC News NI submitted Freedom of Information (FOI) requests to the council and the department, asking them about the cost of the multi-agency operations to forcibly remove both bonfires.
However, the Department for Infrastructure refused to disclose the figures, saying it was "confidential commercial information".
Belfast City Council also declined to release its costs, arguing the information was "commercially sensitive".
Mr Long criticised their decision to withhold details of the cost to the public purse.
"I think it's important that we get an overall figure provided for what happened during this year, because I think people will be very surprised about exactly how much it costs to deal with the bonfire situation.
"And I think if people knew how much it costs, there might be more efforts put in place to try to get solutions," the Alliance councillor said.
Bonfires are traditionally lit in many loyalist areas of Northern Ireland on the Eleventh Night - the eve of the Twelfth of July.
The fires mark William of Orange's victory over King James II at the Battle of the Boyne in 1690 and supporters say they are an important part of loyalist culture.
The decision to remove material from the Bloomfield bonfire was taken on 10 July after a High Court ruling.
A judge directed the Department for Infrastructure to take immediate action, amid claims the 80-pallet-high construction at Bloomfield Walkway posed a serious threat to surrounding homes.
Contractors, wearing masks and driving unmarked vehicles to protect their identities, were hired to take away the bonfire material, under the protection of police officers in riot gear.
The Bloomfield pyre was lit as contractors moved in to try to dismantle it, but the contractors spent several hours cleaning up in the aftermath of the blaze.
The Cluan Place bonfire was dismantled after the Fire Service raised concerns about nearby buildings.
The Department for Infrastructure said afterwards it was in discussion with the council about how to divide up the contractor's costs for the material removal.
As it owned the land at Bloomfield Walkway, the department said it was likely to cover a significant proportion of the cost.