Northern Ireland electoral boundaries plan to be published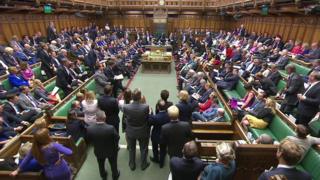 The final proposal to redraw the electoral boundaries in Northern Ireland is due to be published on Monday.
NI is set to lose one constituency, from 18 to 17, as part of a wider move to cut the number of seats across the UK from 650 to 600.
The Boundary Commission for Northern Ireland has put forward a number of plans and invited submissions.
A revised plan published in January was heavily criticised by Sinn Féin.
The party claimed the changes favoured the DUP.
The DUP had previously criticised the plan put forward by the commission in 2016 which would have reduced the constituencies in Belfast from four to three.
Though the final proposals will be published by the four boundary commissions across the UK on Monday, there is no guarantee they will be approved at Westminster.