NI: Slight rise for unemployment rate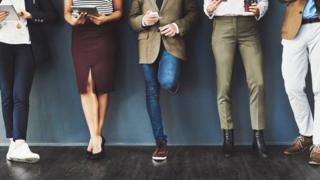 Northern Ireland's unemployment rate has risen slightly, but is still close to its lowest recorded level.
The rate for the period May-July 2018 is estimated at 4%, up by 0.7 percentage points from the previous quarter.
The employment rate, the percentage of working age adults in a job, fell by 0.3 percentage points to 69.3%
The UK unemployment rate is also at 4% while the UK employment rate is 75.5%,
The unemployment rate in Northern Ireland peaked at 8.3% at the start of 2013 and has been on a general downward trend since then.
Service sector record high
A separate set of figures, the Quarterly Employment Survey (QES), suggests the total number of employee jobs increased by 2,550 to 765,100 over the quarter to June 2018.
The QES surveys around 5,700 companies and covers all employers with 25 or more employees and all public sector employers.
The number of jobs in the services sector reached a record high of 621,020 in June.
Despite some high profile business failures retailing has shown the greatest growth over the past year, adding 2,670 jobs.
There were also increases in construction, manufacturing and other industries.
Fewer public sector jobs than 2009
The public sector showed an increase of around 1,000 jobs over the quarter but there there are now approximately 21,000 fewer public sector jobs than the peak in September 2009.
Over the past five years the number of employee jobs in Northern Ireland has increased by almost 65,000.
More than a third of those are hospitality, caring and employment agency jobs.