'Overwhelming' support for workplace menopause policy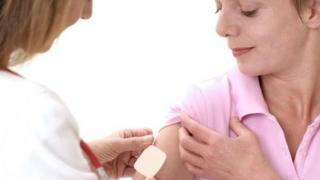 A survey by the Irish Congress of Trade Unions has found that 99% of respondents did not have, or did not know if they had, a workplace menopause policy.
It also found that 96% would welcome the introduction of such a policy.
The menopause is when a woman stops having periods and can no longer get pregnant naturally as oestrogen levels decline.
It usually affects women between the ages of 45 and 55.
Symptoms can include hot flushes, poor concentration, headaches, panic attacks, heavy or light periods, anxiety, loss of confidence and difficulty sleeping.
The results showed that women going through the menopause face challenging issues but many get little support, said ICTU's Clare Moore.
"They also tell us that many women feel uncomfortable talking about their situation, perhaps because they reported encountering sexist and ageist attitudes towards women, the menopause and female ageing in their workplaces," she said.
"More positively, there was overwhelming support for workplace policies on the menopause as well as training for managers and union reps on how best to support women.'
In Northern Ireland, women make up just more than half of the workforce, and about 56% of those older than 50 still work.
What is the Menopause?
The menopause is a natural part of ageing as a woman's oestrogen levels decline
In the UK, the average age for a woman to reach the menopause is 51
Perimenopause is the time leading up to menopause when a woman may experience irregular periods or other menopausal symptoms. This can be years before menopause
There is no specific legislation which addresses menopause at work, but employers are legally obligated to look after the health and welfare of all employees.
The ICTU survey had responses from 2,471 people and asked about the issue of menopause at work.
It was carried out by Polipaddy, an online survey platform, and ran for a four-week period in April and May.
Nearly half of respondents (49%) said the menopause had been treated as a joke in their workplace, while more than a quarter (28%) said it had been treated negatively.
Only 40% said they would feel comfortable talking about the effects the menopause was having on them and only in a confidential setting with their line manager or union representative.
More than half the respondents said the gender of the line manager would influence this decision.
An overwhelming 97% said they would welcome training for union reps and managers so that they could support women experiencing the menopause at work.