Labour: 'No hard border' commitment must be honoured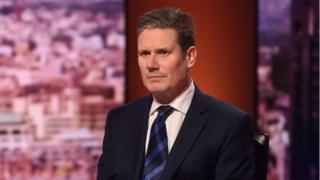 Labour's Brexit spokesperson said he understands the rising anxiety felt by the Irish government over the state of the UK's negotiations on withdrawing from the EU.
Sir Keir Starmer said no one should be casual about the peace process.
The government's commitments to ensure that there will be no hard border in Ireland must be honoured, he said.
He was speaking after visiting Dublin on Tuesday where he held talks with Irish Foreign Minister Simon Coveney.
He also met a range of other Irish politicians and business figures.
Pro-Brexit politicians have criticised Theresa May for conceding the so-called Northern Ireland backstop during the withdrawal talks.
Some Brexiteers are promising to unveil their alternative.
Mr Starmer said he suspects their reluctance to put pen to paper until now has been because they realise there are no easy answers and are just as divided as everyone else.
Questioned about the trade union movement's belief that a 'People's Vote' should remain an option, Mr Starmer said that in the event of no Brexit deal, he would prefer a general election.
But he added if an election is not called "there has to be a mechanism for dealing with the threat of no deal - all options should be on the table".
"One of those options should be a popular vote on the deal," he added.