Arlene Foster warns government over NI talks mediator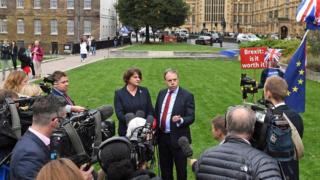 DUP leader Arlene Foster has warned the government about appointing an independent talks mediator.
Speaking after meeting the prime minister in Westminster, Mrs Foster said the government should not "sub-contract" the process of appointing a talks chairperson.
An independent mediator has been raised by a number of parties as a way of breaking the deadlock at Stormont.
The Northern Ireland Assembly has not sat for 20 months.
The DUP said it told the government they were responsible for setting up and managing any future talks process.
Mrs Foster told reporters after her meeting with Theresa May that "there is a role for facilitation but we believe the British government must not sub-contract their role".
"Because under the Belfast Agreement, and until the people of Northern Ireland decide otherwise, the UK government is in charge of Northern Ireland," she added.
Decision-making
Mrs Foster and the party's deputy leader, North Belfast MP Nigel Dodds, held discussions with the prime minister in the House of Commons.
Downing Street said the meeting was part of their ongoing discussions with the DUP.
Decision-making powers in the absence of devolution in Northern Ireland and the confidence and supply arrangement between the DUP and the Conservatives were also discussed.
The DUP said they raised the issue of how any new decision-making powers would work in Northern Ireland.
Referring to the lack of an executive, Nigel Dodds said: "We would rather have these decisions made in Belfast but if they have to be made here they will be made here."
The meeting comes after Secretary Of State Karen Bradley held a round of discussions with the four other main parties last Monday at Stormont.
The Northern Ireland Office said discussions with the parties will continue and, in the coming weeks, Mrs Bradley will present legislation at Westminster aimed at helping local civil servants in Belfast in the absence of devolution.
Mrs Bradley has already announced that she plans to reduce MLA pay by an initial £7,000 and then a further £6,000 if devolution is not restored.