NI newspaper review: Storm Ali aftermath makes headlines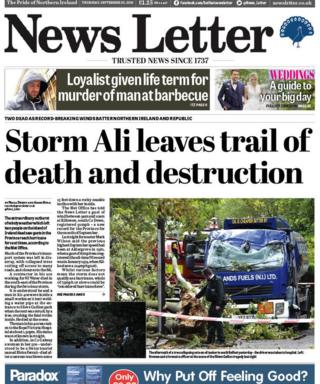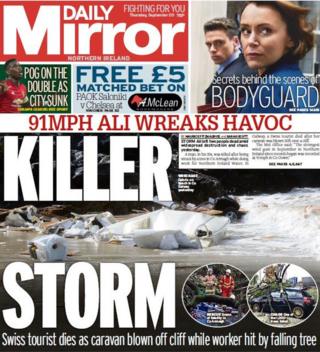 Thursday's newspaper headlines are all about the aftermath of Storm Ali, which brought record-breaking September winds and left two people dead.
"Death and destruction", "a devastating path" and a "killer storm" are the words jumping from the front pages.
The Daily Mirror's front page also carries an image of the wreckage of a caravan that was blown over a cliff, leading to the death of a woman in her 50s.
A local priest, Fr Sean Smith. said it was "tragic that a visitor to the community should lose her life in this way".
Meanwhile, the death of a man in his 20s in County Armagh is the focus in the Irish News, News Letter and Belfast Telegraph.
They report that the man, who was a contractor for NI Water, died when he was struck by a falling tree. Another man was seriously injured.
Both the News Letter and Belfast Telegraph front pages feature a dramatic picture of a lorry that was seriously damaged by a falling tree in Belfast, with the News Letter reporting that winds on Wednesday reached "hurricane force at times".
While most of the front pages focus entirely on Storm Ali, the Belfast Telegraph's also carries a story on a sister who turned in her "killer brother".
Margaret Lamelas told the newspaper she has nightmares after her brother, a violent schizophrenic, admitted he stabbed a pensioner to death.
Her brother, James Devine, was jailed for eight years earlier in September for the manslaughter of James Hughes.
"I told them [the police] that my brother confessed to killing someone in Belfast," she said. "Making that call was the hardest thing I've ever had to do."
Elsewhere, the News Letter reports on Wednesday's court news that a man had been jailed for the murder of Londonderry man Paul McCauley, who spent nine years in a vegetative state after being attacked at a barbeque.
Mr McCauley died in 2015. Piper John McClements, 28, pleaded guilty to his murder on the first day of his trial.
The trial of a second man, Matthew Gillen, for the murder of Mr McCauley is due to start later on Thursday.
Nurse shortages are among the stories also in the Irish News - it says that the amount of unfilled nursing posts has reached a record high.
New figures show that 2,200 posts are vacant - more than 1,800 of these are for nurses and midwives while about 400 are for nursing assistants, who are described as "vital" to the nursing sector.
Janice Smyth, director for the Royal College of Nursing, said the level of vacancies were "the worst I have ever known".
'Brave challenge'
Later on Thursday, a mother from Northern Ireland will take a legal challenge against prosecutors over their decision to charge her for buying abortion pills online.
The Daily Mirror reports that the woman has told of her "five years of agony, every single day of my life" waiting for the case to come before the High Court.
She faces two charges of unlawfully procuring and supplying abortion pills to her 15-year-old daughter.
Amnesty International, which is supporting the case, said the woman was set to "bravely challenge Northern Ireland's cruel abortion law".
And finally, Free Derry Corner is one of the best-known landmarks in Derry - but Free Londonderry Corner?
Tech giant Google has said it's carrying out an investigation after its maps function gave the area the wrong name, much to the annoyance of locals, according to the Belfast Telegraph.
Google said that it had updated the map and the correct name has now been applied.