Winston 'Winkie' Rea trial postponed over illness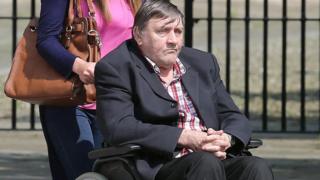 The non-jury trial of loyalist Winston 'Winkie' Rea has been postponed to allow him to undergo a series of medical tests.
Belfast Crown Court was told on Friday that he may have to undergo MRI or CT scans for a "long standing illness".
It also heard he had been examined by a neurological psychiatrist.
The 67-year-old, of Springwell Crescent in Groomsport, County Down, faces 19 charges on dates between 1973 and 1996.
He denies all the charges, which include the murders of John Devine in 1989 and John O'Hara in 1991.
Mr Devine, 37, was shot in front of his teenage son in west Belfast while Mr O'Hara, a 41-year-old taxi driver, was murdered in the south of the city.
Further charges against Mr Rea include conspiring with others to threaten to kill LVF leader Billy Wright in August 1996 and encouraging the murder of "persons working in shops selling An Phoblacht in republican and nationalist areas" between November 1977 and October 1994.
He also pleaded not guilty to firearms and other terror-related charges, including conspiring to possess firearms secured from the Ulster Resistance paramilitary group on dates between November 1986 and October 1994.
Mr Rea, who was not in court for Friday's proceedings, was due to stand trial on all charges early next month.
At Friday's review hearing, the judge heard that he had recently been examined by psychiatrist Dr Helen Harbinson about his "cognitive ability" for the trial in light of a "long-standing illness".
Expert examination
His defence QC said that Mr Rea "will consent to any examination by experts appointed by the prosecution".
A prosecution barrister said that "the families of multiple alleged victims will have been preparing themselves" ahead of next month's trial, adding that the provision of expert reports could cause "further delays for a considerable period".
He urged the judge to fix a new date for the trial in the current court term.
The judge, who directed that a neurological psychiatrist's report be served within three weeks, said that he was requesting the "full co-operation" of all defence medical experts in the case, and urged them to comply with his directions which were "in the public interest of the trial process".
He listed the trial for 12 November and said he would review progress in the case next month.