NI Alcohol licensing regulations 'horrendous,' says food chief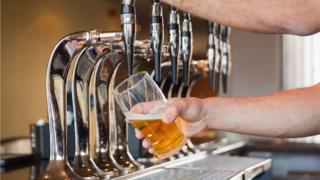 Alcohol licensing regulations in Northern Ireland have been described as "horrendous," by the head of Food NI.
The current law means local producers cannot allow their product to be sampled or sold where it is made, unless they have a pub or restaurant licence.
This can be costly and hard to get.
Michele Shirlow told the BBC's Inside Business programme that not being able to sell alcohol at events created "a crazy situation".
A previous bill introduced in the Assembly in September 2016, which could have addressed the issue, fell when the Executive was dissolved in January last year.
Northern Ireland has been without an executive since January 2017 after a bitter row between the governing parties, the DUP and Sinn Féin.
Ms Shirlow said it was "frustrating".
"We can't sell at Balmoral Show or any of the 30 to 40 events we do across the year in Northern Ireland.
"We went over to Borough Market in London with local producers and it was refreshing to be able to sell local beers and gins," she said.
"It's crazy that it's easier to go to London and sell our produce than here at home," she added.
"Detrimental effect"
Joe McGirr from Boatyard Gin distillery in County Fermanagh told the programme licensing is a "huge factor" for his business.
"We are a small team still at a start-up stage and these archaic laws, where we can't sell bottles to customers coming in, seem ridiculous unlike other parts of the UK and recently Republic of Ireland, where they've caught up with the modern way of thinking."
Mr McGirr claimed the rules were having a "first-hand detrimental effect" to his business.
"When people come to us, they want to buy the product and take it back home to whatever country they've come from and we have to say no.
"You have to purchase your licence and go through the court process at a huge cost which doesn't make sense," he added.