Rathlin Ferry rescues five divers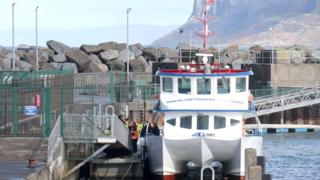 Five divers have been rescued from two boats that broke down off the coast of Rathlin Island.
The Rathlin Express passenger ferry diverted after a distress call from one of the boats, which had drifted into high seas.
Lifeboats were also launched from Red Bay and Portrush and towed the two broken-down vessels to shore.
None of the divers. who were from the Viking Sub-Aqua Club in Dublin, were injured in Sunday's incident.
'Came from nowhere'
John Dunne, one of the five rescued divers, told BBC News NI it was "extremely stressful" and "frightening" after a storm brought 12ft (4m) waves.
He said problems began when one of the boats broke down, and then a rope between the two boats was snapped by a large wave,
"I had to cut the rope free but, in the meantime, we were swamped by a couple of waves and a rope that we didn't see floated out and got caught in our propeller," he said.
"We were unable to move. So we were at the mercy of the conditions for a good 40 minutes or so before we were rescued by the Rathlin Ferry."
Mr Dunne added that the storm "came out of nowhere".
"I was more afraid of being turned over than sinking. I knew we wouldn't sink but I was afraid the waves could flip the boat - that's how severe they were."
He added: "There is a bilge pump on the boat but it wasn't pumping the water because it was coming in quicker than we could get rid of it so we were bailing and just doing our best.
"In the meantime, I had my mobile phone in a waterproof pouch so I was able to stay in touch with a few people on shore in Ballycastle and Rathlin Island so I knew things were happening.
"We were also talking to the coastguard over the VHF [radio] so we knew we were being looked after which does alleviate the stress a good bit."
'Quite concerned'
Michael Cecil, skipper of the Rathlin Express, said he received a distress call at 14:00 BST.
"A few other boats were searching but they couldn't find the broken down boat," he said.
"We proceeded a bit further westwards than we normally would into some quite rough water because we had an idea they might be in that direction."
At 14:30, he found the two broken-down vessels about half-a-mile apart.
"We went alongside the first vessel with three people on board," he said.
"They weren't in any immediate danger and were quite concerned about their companions.
"The other boat was in danger of sinking so we got alongside them in some rough conditions with the wind blowing against the tide and managed to get the two people off the boat.
"I was upstairs on the ferry skippering and my crewman, Connor McCurdey, got the boat under tow.
"After that we made it back to the first vessel and carried out a similar rescue there."
'Seasick'
Mr Dunne said the divers felt "elated" but "shaken" when they got on the ferry.
"The shock only really kicks in when you get on the ferry," he said.
"Your adrenaline probably stops working at that point and you get the shakes and that sort of thing.
"We were ringing home - it was a bit emotional telling your loved ones what happened."
Mr Cecil said at first the ferry attempted to tow the two boats back to Ballycastle, but realised they were in danger of damaging the vessels, so left them for the approaching lifeboats.
There were 19 passengers on board the Rathlin Express when it diverted to carry out the rescue.
"We left the scene to Ballycastle with five extra passengers," he said.
"It was rough waters so there were a few seasick casualties."
'Sense of relief'
The divers returned to Rathlin Island after being taken to Ballycastle and plan to return to Dublin on Monday.
"There's a huge sense of relief and calm now," said Mr Dunne.
"We just had a lovely meal and we're all going really quiet now. When the adrenaline burns off it does leave you exhausted."
Kerry Gregg, from Portrush RNLI, said: 'The weather conditions were not ideal at sea but our crews are highly skilled and train regularly with each other to prepare for situations like these.
"We were glad to be able to help and would like to wish the casualties well after what must have been a frightening experience for them".