Home schooling: When lessons are at the kitchen table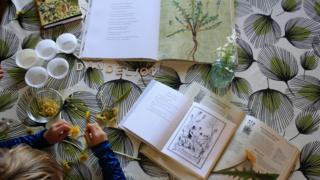 Every weekday morning, Finlay, six, Edith, four, and two-year-old Jasper are up and about at 07:00 BST.
This is a scene mirrored in homes with young children all across Northern Ireland.
The difference is, while other children and parents are frantically trying to make it to school on time, these three children stay at home.
Their school commute is to the kitchen table, where lessons start at 10:00.
The day includes writing, maths games, puzzles and creative activities.
Their teacher is Bethany Dawson, their mother.
"This time at the table is usually about two hours, depending on what they can manage. It's flexible, light hearted and based around topics they are interested in or things they have asked to learn," said Bethany.
Lunch is at 13:00 and lessons are moved outdoors either walking, cycling, foraging or hiking.
For the Dawsons, home education has gives them freedom and flexibility, said Bethany.
"It also protects them from the expectation that they 'should' be doing anything in particular at a specific time or in a specific way," she said.
Alternative education
The Dawsons are part of Northern Ireland's home education community.
Parents in Northern Ireland legally have a right to educate their children at home. There is no obligation for the children to follow the Northern Ireland curriculum or enter for national tests.
A spokesperson for the Education Authority (EA) said that it has to develop standardised guidelines in collaboration with home education partners since, currently, there are none.
An extra 88 children have registered to be educated at home with the EA since 2013/14, according to figures released under a freedom of information request.
Yet, these numbers may not tell the true picture of home educators in Northern Ireland, since parents are not required to register with the EA.
| | |
| --- | --- |
| School year | Children registered to home educate in Northern Ireland |
| 2013/14 | 249 |
| 2014/15 | 281 |
| 2015/16 | 266 |
| 2016/17 | 293 |
| 2017/18 | 337 |
Responding to a questionnaire, less than half of respondents who home school in Northern Ireland said they have registered with the EA.
The research was carried out by Christine Bower, a PhD candidate at Queen's University in Belfast.
Parents choose to home educate because of lifestyle choices, religious reasons or lack of support for the special needs of children, said Ms Bower.
According to her research, one of the major critiques of home education is that children are not exposed to the social life provided by school.
But she concluded that relatively little is known about home educators in Northern Ireland.
'It's funny how formal it can be'
Sarah Dickinson runs the home education website HEdNI.
She estimates that, based on numbers taking part in the HEdNI community, the real number of home schoolers in Northern Ireland is closer to 500.
Sarah's boys Jack, 13, Charlie, 11, and Kit, eight, have never been to school.
Her eldest, Jack, tried school for a week with his cousin.
"If he had loved it and wanted to go, then he would be there," she said.
"I wouldn't go back because they are so happy and there are so many positive reasons for doing it and there is so much support."
The boys do not follow a curriculum. Instead, they learn based on their interests and carry out their own projects.
Jack, for example, is learning Japanese and taking exams in drama and musical theatre.
Charlie is passionate about mythology, storytelling and economics.
Kit is keen on reading.
"It's funny how formal it can actually be," said Sarah.
'I was terrified making the decision'
Susan Kyle says home educating was forced on her and her daughter, Alice.
Alice has been diagnosed with attention deficit hyperactivity disorder (ADHD), dyslexia and autism.
Susan, from Maghaberry, said she struggled for years to get Alice the education and resources she needed.
"I was terrified making the decision. I think I was sick for two months," she said.
Susan has created a 'school' for Alice, named OWL, which stands for 'Our Wonderful Learning'. She even has a school uniform.
To make sure Alice socialises, she participates in fundraising charity events.
As for examinations, Susan said there are plenty of options. Alice could sit her GSCEs through the Open University. After that, Susan said they will wait and see.