Demand for NI ambulance services jumps 50% in five years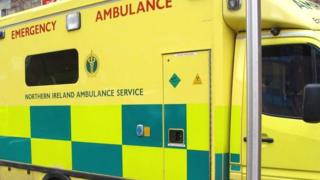 Demand for ambulance services in NI has jumped 50% over the past five years.
It means the amount of time spent waiting for an ambulance after dialling 999 has risen steadily during that time.
The data from the ambulance service comes as the organisation launches a consultation on proposed changes.
It said the proposals, costing up to £30m, were "the most radical development" in ambulance provision in 20 years.
In 2017/18 there were 201,508 ambulance responses despatched following calls - double the number five years ago.
New jobs
The proposals include improving how calls are handled to identify the sickest patients faster, as well as the creation of more than 300 jobs, including 125 paramedics.
The consultation will be open to the public for 12 weeks, before it is referred to the Department of Health.
But changes of this scale would normally require ministerial approval.
There are no ministers in place in Northern Ireland due to the collapse of power-sharing in January 2017.
Similar changes have already been put in place in England, Scotland and Wales.
Michael Bloomfield, Northern Ireland Ambulance Service (NIAS) chief executive, said a proposal will be submitted to the Department of Health.
He said it would be for the department to decide whether or not ministerial approval is required.
"It's a very fundamental change in how we deliver our services and ordinarily that would be a decision that would be taken by a minister," Mr Bloomfield said.
Targets
The current NIAS target is that 72.5% of life threatening calls in Northern Ireland should be responded to within eight minutes, but the actual figure is well below that target, at 45.2%.
Under the current system of categorising calls, the most serious "red" calls, which are life threatening, account for 30% of total calls made to the ambulance service.
But evidence suggests that fewer than 7% of these calls are actually life threatening, which means 23% of responses are being treated inefficiently.
The proposed new system will involve call handlers asking different questions to identify life threatening events under "category 1" which should account for 7% of calls.
One example of how patients are currently being treated inefficiently is when multiple ambulances are dispatched to an incident where they are not required.
The proposals will mean ambulance staff will be able to do more for patients without needing to transport them to hospital.
About half (49.5%) of those calls taken by the ambulance service between October 2017 and March 2018 were treated by paramedics, and patients did not have to be taken to hospital.
That saved the equivalent of 543 twelve hour shifts of staff working in A&E.
"This is not about saving money, quite the opposite," Mr Bloomfield said.
"This is about improving safety and quality, it's not about meeting targets."