Coleraine flats evacuated after suspected arson attack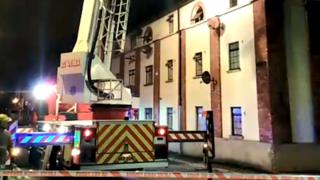 About 12 people had to be moved from apartments in Coleraine in the early hours of Thursday after a suspected arson attack.
Up to 30 firefighters were called to the block in Long Commons after a fire broke out in a second floor flat just after 02:00 BST.
They managed to stop it spreading to the other flats.
An investigation into the cause of the fire is under way, but the fire service believe it was started deliberately.
Substantial damage
Fire service Group Commander Tom Morrow said there was substantial damage to the flat where the fire started.
"The crews first in attendance did a great job suppressing that fire and stopping it spreading throughout the premises whilst rescuing people from the building at the same time," he said.
"There's a number of residents whose accommodation is no longer fit for purpose, so the Red Cross are looking after five of the residents until the Housing Executive, working with social care, is able to find them alternative accommodation."
"We believe the fire was started deliberately"