Brexit: Government considers NI-GB regulatory checks
By Enda McClafferty
BBC News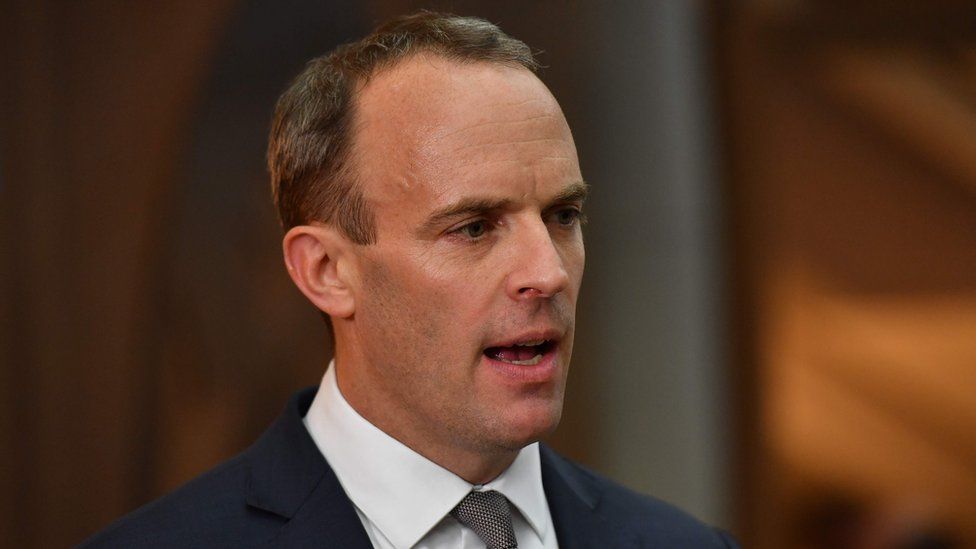 The government is looking at how regulatory checks are carried out in an attempt to break the deadlock over the backstop in the EU negotiations, Dominic Raab has said.
The Brexit secretary was speaking at a fringe event at the Conservative conference in Birmingham.
He also accused the European Union of "weaponising" the issue of the Irish border.
The issue is one of the main sticking points in negotiations.
He warned the UK would be forced to leave the EU without a deal, if the only offer on the table threatens the union.
Later, he was asked about reports that the government was preparing a compromise which would involve regulatory checks being carried out on goods moving between Northern Ireland and Great Britain.
In response, the Brexit secretary said the government would look at how regulatory checks could be used as part of a solution to move the Brexit talks forward.
He also reiterated any backstop deal with the EU would need to have an end point.
The UK and the EU both want to avoid a "hard border" - physical checks or infrastructure between Northern Ireland and Ireland - but cannot agree on how.
An important part of the negotiation is the controversial border "backstop".
The backstop is a position of last resort, to protect an open border on the island of Ireland in the event that the UK leaves the EU without securing an overall exit deal.
The UK is due to leave the EU on 29 March 2019.