Stitching thoughts on a life cut short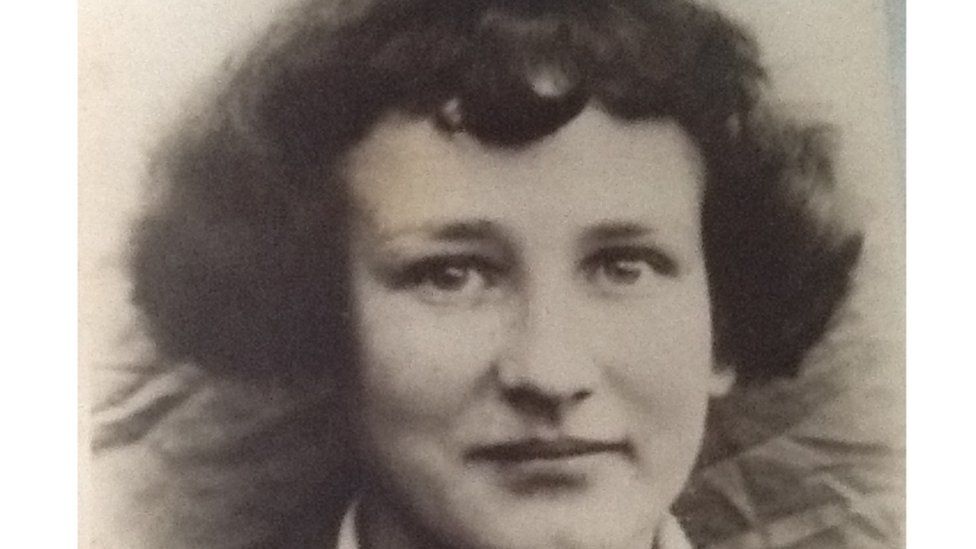 Kathleen Hutchinson was cycling home from work on a late December night when she swerved to avoid a pedestrian, fell on to the road, and was knocked unconscious.
She died a few days later, aged just 15.
Kathleen, from just outside Kilrea, County Londonderry, Northern Ireland, had got a job as a typist with Willliam Clark's linen mill in nearby Upperlands the year before, and she rode her bike on the six-mile journey back and forth each day.
For Heather Richardson, the sad story of her aunt's death was part of family lore growing up, but she didn't give it much thought in childhood.
"It was just a family story," says Heather.
"As I got older though, I realised that this was a catastrophically tragic event in a family."
Belfast-based Heather, a writer and lecturer in English with the Open University, wanted to do something to pay tribute to Kathleen, but also explore her story.
"Because I'm quite interested in textiles and sewing, I thought because Kathleen had worked in a linen mill there might be something that I could do that would draw those things together," Heather says.
"Rather than write something down, I thought I would make something. The idea came to me that I could make a dress for her, and tell her story on the dress."
Had Kathleen lived, Heather thought, she might have got a dress for her 21st birthday "so she could go out to a dance".
"I thought I would try and make the closest equivalent to the type of dress that she would have had made," she says.
Heather set about looking for a pattern that would have been used in the mid 1940s, and managed to get linen that was made by Clark's.
"I then started reimagining my way into her [Kathleen's] mind, because there's nothing left of her," Heather says.
"There are no letters or diaries; it all had to be invented. So I just came up with words she might have said, or things she might have thought, and then I stitched them on to the dress.
"In a way, it's a story in the form of a dress."
The hand-stitched text is partly imagined memories of Kathleen's school days, or memories of her mum or dad, or her physical observations of the world around her.
Kathleen was one of 11 children.
Her brother, Tom, Heather's father, was six at the time of her death. He's now 85.
"He has memories of Kathleen herself, and of her being kind, and that when she was earning some money, she would have bought the wee ones chocolates at Easter," says Heather.
"My dad has a memory of his father coming back with the coffin... he had never really spoken before about it, but he remembered the coffin being closed and taken away. In those days, women and children didn't go to funerals, so he just remembers it being taken out in a horse-drawn hearse.
"He became quite upset when he described that. That brought it home to me that although it was so long ago, it has left a mark."
Tom has become an enthusiastic advocate of his daughter's project. The pair have travelled "down memory lane" together to visit what's left of the old family home near Kilrea.
Heather's two-year labour of love is now on display in the Island Arts Centre in Lisburn, as part of its Lost in Linen exhibition.
Tom attended the recent preview.
"He thinks it's nice that she's not forgotten, that I felt her life was important enough to do something about," says Heather.
The extraordinary hand-stitched craftsmanship on the dress was as a result of training Heather received in England from a specialist textile artist and calligrapher.
The work has been painstaking, she says.
"It maybe takes 15 minutes to stitch one word, so when you multiply that up, you can understand how long it takes to stitch a long passage of text," she says.
"It took hours and hours of work to do that side of it."
The dress will be on display until 26 October, and then it will be returned to Heather.
She plans to fill more of the dress with the thoughts and musings of her late aunt.
"Nowadays, we tend to think, 'isn't that awful to have to leave school at 14 and go to work'," Heather adds.
"For her [Kathleen], it was probably a big adventure, and quite exciting going from living in a wee cottage down a lane, to working in this company.
"They were taking orders from all over the world, so there would have been a bit of glamour in her life.
"So I didn't want this to be a sad thing.
"This was a young girl whose life was opening up.
"So those are the thoughts coming from her, and that's what I've been trying to capture."