McGurk's Bar bombing: Legal case over inquest refusal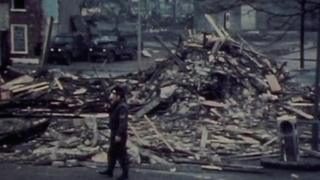 A man whose parents died in the McGurk's Bar bomb has begun a legal challenge to the attorney general's decision not to order a fresh inquest into their deaths.
The attack by the Ulster Volunteer Force (UVF) killed 15 people in north Belfast in December 1971.
Families of the victims asked Attorney General John Larkin to order a new inquest and said they sent him new evidence to support the request.
Their application was refused in July.
Lawyers acting for Terence Keenan, whose parents Edward and Sarah Keenan died in the bombing, have lodged papers in the High Court initiating proceedings against the attorney general.
They are seeking a judicial review into the decision by Mr Larkin.
"Every right-thinking person knows that this decision was wrong," said Mr Keenan.
"There has been a vast amount of new information made available in recent years that was never put before the original inquest."
The families have claimed that the state was involved in a cover up following the bombing.
In 2011, a Police Ombudsman probe identified investigative bias in how the Royal Ulster Constabulary (RUC) handled the case.
It concluded that police failed to properly investigate loyalist responsibility for the north Belfast bombing because they were focused on the idea that the IRA was to blame.
But the Historical Enquiries Team later reached a different conclusion, claiming there was no evidence of any bias on the part of the RUC investigators.
Mr Keenan's solicitor, Niall Ó'Murchú said: "There are hundreds of documents now available that need proper and just examination in a court of law, and he (the attorney general) cannot simply ignore them."
On Tuesday, the attorney general said he would request a fresh police investigation into the deaths of six men believed to be have been killed by the Army in February 1973.
The relatives of those had died had called for a new inquest, but John Larkin said that would not be a sufficient and that a new police inquiry was needed.