DUP would reject 'hybrid Brexit backstop'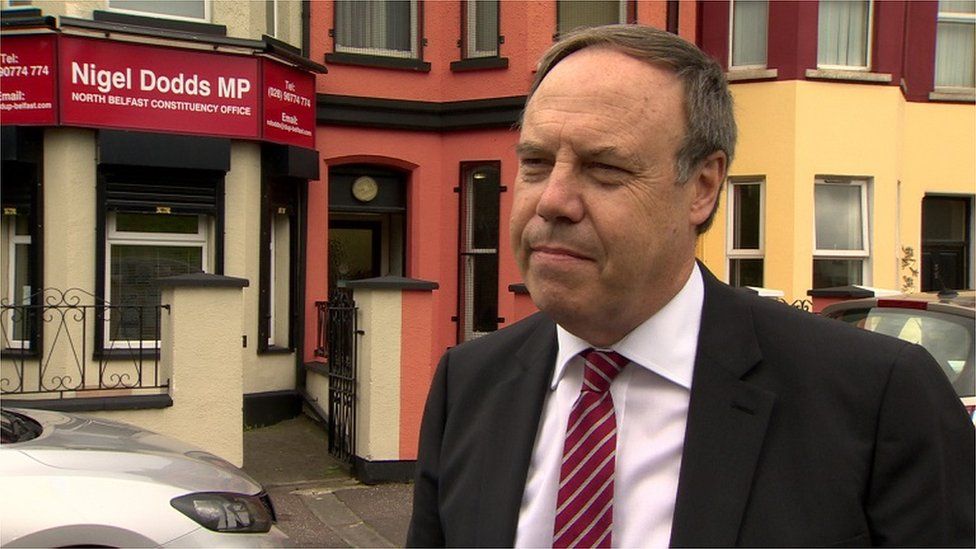 The DUP will not support a separate hybrid economic model for Northern Ireland after Brexit, the party's deputy leader has said.
Nigel Dodds was responding to reports that UK officials were working on a "hybrid backstop" border proposal.
It is understood the plan would involve "light-touch regulatory checks" between Great Britain and Northern Ireland.
In Brussels, the taoiseach has said there is still an opportunity to get a Brexit deal in the next fortnight.
Leo Varadkar, speaking on Thursday, called on the United Kingdom to propose plans for an alternative Irish border backstop "well in advance" of the EU summit on 17 October.
Both the UK and the EU agree that a backstop position is needed to avoid a hard border in Ireland in the event of a no-deal Brexit.
It has also been suggested the UK government is considering making any new backstop subject to democratic oversight by the Northern Ireland Assembly, which has not met for more than 600 days.
The joint report agreed by the UK and the EU in December 2017 left open the possibility of the assembly agreeing "distinct arrangements... appropriate for Northern Ireland" in the future.
Mr Dodds said the DUP could not accept Northern Ireland being in the EU single market but out of its customs union.
"If the whole of the UK is in both, then that's fine," he told the BBC. "If the whole of the UK is out of both, then we must be out of both."
Mr Dodds said that if "light-touch regulatory checks" are good enough for the east-west border between Great Britain and Northern Ireland, they should be acceptable for the land border in Ireland.
He added, however, that "you only need (east-west) checks if there's a different set of rules and we have been clear that we must leave the EU as one country, because to do otherwise, to put barriers up, would do real damage to the economic future of Northern Ireland".
What do 'checks in the Irish Sea' mean?
In a backstop situation, there could in theory be two types of Irish Sea checks:
Customs - to make sure the right EU tariffs have been paid
Regulatory - to make sure goods meet EU safety and quality standards
The government has been adamant it would never accept Irish Sea customs checks.
But it has also been careful not to completely close down the prospect of regulatory checks.
Mr Varadkar said that a UK-wide customs arrangement could not form part of the backstop and that there was no Northern Ireland Executive or Assembly to approve new regulatory checks in Northern Ireland.
Sinn Féin sources have expressed concern about any proposal "that would give the DUP a veto over the backstop arrangements", arguing this would be "totally unacceptable" to all Northern Ireland's pro-remain parties and also the EU.
Nigel Dodds said he can see the logic for the Stormont institutions having a role, as some of the issues under discussion are devolved.
He added that "it's interesting that some people who say they are strongly for devolution are not raising questions about this".
However, he added that he wants to see more details before commenting further.
Mr Dodds said he hopes the government will learn lessons from what he described as "December's debacle", when Theresa May had to renegotiate a deal with the EU after last-minute DUP objections.
The DUP's deputy leader insisted his party "will not be bounces" so far as the current negotiations are concerned.