Brexit: Sinn Féin and SDLP reject Stormont backstop role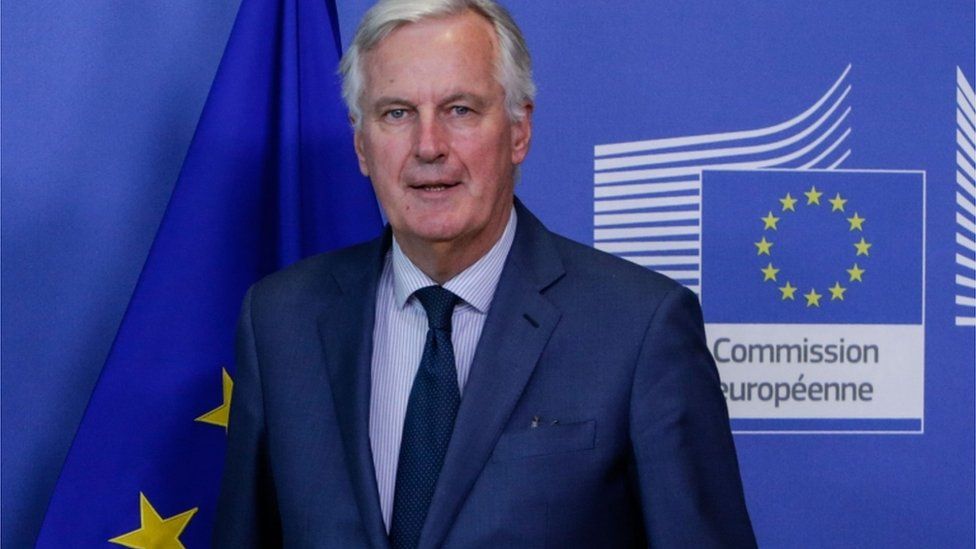 Sinn Féin and the SDLP have rejected the possibility of Stormont having a say over what kind of backstop may emerge if there is a 'no deal' Brexit
Proposals being worked on by the British government are said to include some kind of role for MLAs.
Sinn Féin and the SDLP said they oppose this.
Earlier the parties, along with Alliance and the Greens, were briefed on the Brexit talks by the EU's chief negotiator, Michel Barnier.
The UK and the EU are still divided over how to solve the issue of the Irish border, less than two weeks before an EU summit on 17 October.
Sinn Féin vice-president Michelle O'Neill said a role for MLAs would be unacceptable, while SDLP leader Colum Eastwood said it would give the DUP a veto but that it would not happen.
Ms O'Neill said the Mr Barnier told her during the meeting that the Brexit summit later this month in Brussels would be decisive
The delegation also met the EU Brexit co-ordinator Guy Verhofstadt.
Speaking at a joint party press conference after meeting with Michel Barnier, Ms O'Neill said that that the DUP "would most certainly use the petition of concern to thwart any progress, and that is not acceptable".
Mr Eastwood added: "The idea that they have a veto now with Theresa May, that we would then offer them another veto by ensuring that the Northern Ireland Assembly would have a veto over the backstop, that just can't happen.
The Alliance deputy leader, Stephen Farry, said a border backstop would "not be a threat to the political and constitutional situation."
He added: "This must be seen as a pragmatic intervention to protect out economy and society."
Green MLA Steven Agnew said that the proposals were "being played out like a game".
"It's too serious for that. We some maturity, we some solutions, and we are willing to work to do that," he added.
It is understood UK officials are working on proposals to break the impasse over the border backstop issue.
There is also the possibility of some kind of democratic oversight by Stormont and a proposal to include all of the UK in the customs union for a time-limited period.
It remains to be seen if the EU will accept the plan.
Politicians from the DUP and UUP are due to travel to Brussels next week.