Brussels briefs NI businesses on Brexit backstop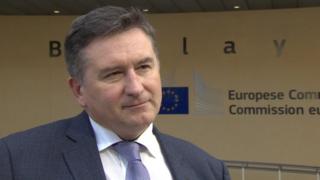 Northern Ireland business community representatives have been briefed by Brussels officials about what the Brexit backstop would mean in practice.
Political negotiations between the UK and EU are reaching a crucial phase.
The two sides will meet at a potentially decisive summit next week.
The head of NI delegation, Aodhán Connolly, said the two-hour meeting with Task Force 50 was "useful and constructive".
Task Force 50 is the group in charge of conducting the EU's negotiations with the UK.
No deal 'bad for NI businesses'
Head of Manufacturing NI, Stephen Kelly, said that the group had a "good constructive conversation" with TF50 and that many of their questions had been answered.
"We left with some things to think about and challenged TF50 to look at certain areas.
"It is clear that No Deal is bad for NI businesses, consumers and future job creation," he said.
"We need to see a deal in place and we urge the negotiators on both sides to use the limited time ahead to reach a deal that works not only for the EU and the UK but critically for Northern Ireland," he added.
Declan Billington of the Northern Ireland Food and Drink Association said UK officials now needed to show the same level of engagement.
The backstop is the main area of disagreement in the Brexit withdrawal negotiations.
It is the arrangement which will apply if the Irish border cannot be kept as frictionless as it is now in the context of a wider deal.
The EU has proposed a backstop that would mean NI staying in the customs union, large parts of the single market and the EU VAT system.
The UK government has rejected it as a threat to the integrity of the UK and has suggested a backstop that would see the UK as a whole remaining aligned with the EU customs union for a limited time after 2020.
There are reports the government is working on a so-called hybrid backstop which would see light touch regulatory checks on goods going between the Great Britain and Northern Ireland.
Mr Billington said it was not possible to have a view on this without "actually having some engagement" with the UK about the plan.
The Northern Ireland delegates are also expected to visit the Northern Ireland Executive office in Brussels, which is still operational despite the collapse of the power-sharing government in January 2017.