Belfast Trust's 'deep regret' over abuse case handling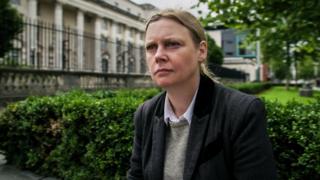 The Belfast Trust has said how it took decisions in relation to a child abuse case more than three decades ago is "a matter of deep regret".
A secret recording obtained by BBC Spotlight appears to contain some very disturbing statements from the social worker at the heart of the case.
Suzanne Connolly was adopted by the Rossi family in north Belfast when she was three months old.
One of six children adopted into the family, she was then known as Victoria and her nickname was Vitzy.
When Ms Connolly was 11, she was sexually abused by her adoptive father John Rossi.
The abuse continued until she was 14.
Birth mother
In 1985, when Ms Connolly was 14, she left the Rossi home and went into care.
She reported the abuse to the police and a file was passed to the Public Prosecution Service (PPS) but there was no prosecution.
But Spotlight understands that John Rossi later admitted that he had abused his adoptive daughter to a social worker in 1987.
By this stage Ms Connolly had traced her birth mother Anne and was trying to establish a relationship with her.
She had told her birth mother that she had been abused by her adoptive father.
Ms Connolly's social worker went to visit Anne.
Anne says she decided to secretly record the meeting for her own information.
BBC Spotlight has obtained a copy of the tape.
'Deeply shocked'
Anne says she "couldn't believe what she was hearing" when the social worker began to discuss the abuse her daughter had suffered.
The social worker is recorded as saying: "Certainly her father abused her sexually in molesting her and that was as far as it got but there's also the question of whether Vitzy abused him."
She is then interrupted by Anne who points out that the girl "was only 11", to which the social worker replies: "She stopped when she was no longer getting anything out of it".
Spotlight has spoken to the social worker who said she is deeply shocked by the contents of the tape and believes she was set up by Ms Connolly's birth mother Anne.
She said she always tried to do the best for Ms Connolly and the type of abuse she was talking about was emotional not sexual.
The social worker said she always maintained that John Rossi was wholly to blame for the abuse, a point she makes more than once on the full recording.
Case re-opened
But the tape contains a number of troubling statements that suggest that while social services recognised John Rossi's guilt, a critical view towards a vulnerable child in their care had been adopted by one of their social workers.
In a statement, The Belfast Trust said: "With no equivocation, we would wish to state that the victim of child sexual abuse is never to blame for their abuse and in no way can they ever be held responsible for influencing their abuser."
It acknowledged that a number of decisions taken by social services added to Ms Connolly's suffering.
Despite John Rossi's admissions he was not brought to justice in 1987.
The case was examined again in 2004 and a file was passed to the PPS but again the decision was taken not to prosecute.
Ms Connolly's birth mother Anne went back to the police in 2016 and the case was re-opened.
This time John Rossi was charged with abusing his adoptive daughter.
He pleaded guilty to 18 out of 20 counts of abusing his adopted daughter and is expected to serve two and a half years in prison.
The BBC Spotlight programme, Adoption of Guilt, is now available on the BBC iPlayer.