Adrian Ismay: Traces of explosives in car were 'minute'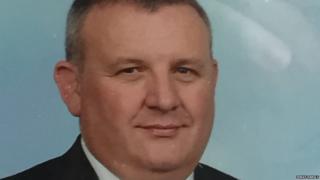 Traces of explosives in a car at the centre of a murder trial were "minute", and provided "weak support" of direct contact, a court has been told.
Prison officer Adrian Ismay died 11 days after a device exploded under his van.
Christopher Alphonsos Robinson, of Aspen Park, west Belfast, denies the murder of Mr Ismay,
The 48-year-old also denies causing the explosion and providing a vehicle used for terrorism.
Traces of RDX explosive were found on the floor, rear seat and child seat of a Citroen C3.
The car had been observed on CCTV near Mr Ismay's east Belfast home.
The footage was recorded the night before a bomb containing RDX, exploded under his Volkswagen van.
The 52-year-old father of three was caught in the blast outside his Hillsborough Drive home in March 2016. He died in hospital 11 days later.
'Direct contact with explosives unlikely'
A senior forensic scientist told the court that traces of RDX found in the Citroen C3 were likely to be from secondary or even tertiary contact with the explosives themselves.
RDX is a military explosive and is not commercially available.
He explained the low level traces could have been transferred from a person, or clothing, or a bag, or container, that the explosive had been in direct contact with.
The scientist agreed with defence barrister Arthur Harvey who suggested the traces could have come from "someone who has shaken hands with someone who has shaken hands with someone else".
The defence barrister also suggested the amount detected was "so minute, it was unlikely there was ever direct contact with RDX".
The scientists replied, "Not from the vehicle."
The trial continues.