Decommissioning 'hinders Troubles investigations' says PSNI chief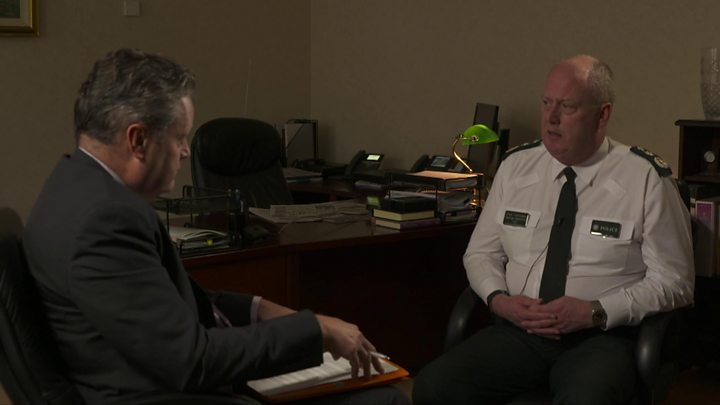 The decision to allow paramilitaries to decommission weapons without forensic tests means police investigating deaths have "one hand tied behind our backs," the PSNI's chief constable has said.
George Hamilton did not criticise the decision, but said it removed a "major line of inquiry" for detectives.
He said only about 4% of investigations into 1,700 unsolved Troubles murders are likely to result in convictions.
But he does not believe there should be an end to Troubles-era prosecutions.
Earlier in the peace process, former Ulster Unionist leader David Trimble insisted that the IRA decommissioned its weapons before he would enter government with Sinn Féin.
But now, the chief constable has said the fact that legislation governing the process prohibited them being forensically tested hinders the ability of the Police Service of Northern Ireland (PSNI) to investigate killings during the Troubles.
'Certain irony'
Linking a weapon used in a killing to an alleged gunman is often one of the key aspects of a prosecution case.
"I wouldn't say an impossible task, but certainly, there is a certain irony that when the police misplace or lose evidence, or evidence decays over the years because of the passage of time, and perhaps even because of some tardiness around our storage facilities and so on, then there's some sort of conspiracy attached to that," he told BBC News NI.
"Alongside that we have a decision taken by the government, agreed by the political parties at the time, for the decommissioning process.
"Now I'm not questioning that, I'm not criticising it, I'm just saying that a rich source of forensic evidence is ballistic forensic evidence that we can recover from firearms and munitions and bombs and so on that have been recovered.
"Now, if all of that's been decommissioned, and there's a legislative provision to say that none of it would be forensically examined before decommissioning, then we're starting off with one hand tied behind our backs, so to speak.
"Certainly from a pure harvesting of forensic evidence, that is a major line of inquiry that is significantly reduced for us."
'Success rate'
The PSNI has endorsed government plans to establish an independent body, the Historical Investigations Unit, to investigate more than 1,700 unsolved killings.
But the chief constable has joined the former director of the Public Prosecution Service, Barra McGrory QC, in warning that the likelihood of convictions is very small.
"History has told us that there is about three or four percent of cases that we review and re-investigate that we get a criminal justice outcome on," Mr Hamilton said.
"That is because of the passage of time, reduction in the quality of evidence, memories fade, witnesses die, frankly, and as time passes the chances of a criminal justice outcome are significantly reduced.
"I don't want to be defeatist about it. We, or whichever investigative body is doing this, should look at all of the evidence, go where the evidence takes us.
"All I'm saying is that historically, over the past 12, 14 years we've been working at this, the success rate for prosecutions is in around three or 4%, and there's nothing that I'm seeing that would indicate that that's likely to increase."
In spite of that, and the fact that anyone convicted for a Troubles related killing will spend a maximum of two years in prison, Mr Hamilton does not believe investigations should cease.
"I think for a significant number of families and victims the possibility of a criminal justice outcome, of somebody being held to account in a criminal court for the murder of their loved one, is important to them and therefore it would be very difficult for me to support that, just out of care for those victims and the loss that those families have suffered."