NI Paper Review: Clinton peace plea and bakery victory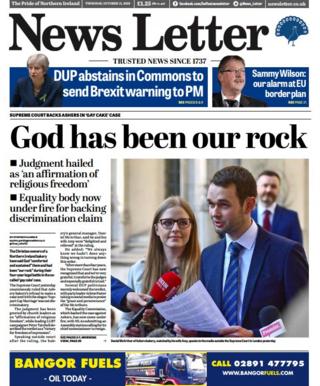 Hillary Clinton, the Ashers aftermath and a £15,000 Tesco raid are all across Thursday's front pages.
The Belfast Telegraph leads with the former presidential candidate Hillary Clinton's visit to Belfast.
The US politician received an honorary degree from Queen's University and welcomed a new scholarship in her name.
Speaking at the university, she called for an interim unity government in Northern Ireland to navigate through the Brexit process and said we should strive for "peace not paralysis".
Mrs Clinton said that she has made "no excuses" for being against Brexit, saying that it "may go down as the worst self-inflicted political wound in history".
Umbilical cord poisoning?
The Irish News headlines on a mum-of-six who it reports died after part of an umbilical cord left in her body after a caesarean two years ago poisoned her.
Fiona McNally, 38 from North Belfast was found dead at her home on 6 October after complaining about feeling ill.
Her family are now demanding answers after a post-mortem detected the cause of death.
Ms McNally's sister has said the family are "so angry" with the Royal Victoria Hospital in Belfast, where the caesarean was performed.
The Belfast Health Trust said: "We express our deep sympathy to this family and on the receipt of the report from the coroner will work closely with him to investigate these tragic circumstances."
The Newsletter leads with the aftermath of the so-called "gay cake" case, where Ashers Bakery's refusal to make a cake with the slogan 'Support Gay Marriage' was found to not be discriminatory.
Daniel McArthur of the bakery, said outside the Supreme Court that "God had been their rock" during a four-year legal battle.
The judgement on Wednesday was greeted by many religious leaders as "an affirmation of religious freedom".
Meanwhile, DUP politician Ian Paisley has written to Secretary of State Karen Bradley asking for a review of the Equality Commission's funding, after it was revealed £250,000 was spent on the court challenge.
The North Antrim MP told the Newsletter: "There has to be a review of how a public body is allowed to pursue a case that gets completely trashed by the Supreme Court."
Shoplifting spree
Inside the Belfast Telegraph, the High Court has heard that three men took more than £15,000 worth of products from a number of raids on Tesco stores across Northern Ireland.
Cosmin Barbu, Dumitru Barbu and Adrian Olteanu loaded shopping trolleys full of drink, before covering them with towels and leaving without paying.
Tesco stores in Lisburn, Newry and Banbridge were targeted by the three men between 23-28 September.
The three accused are said to have admitted their involvement in the shoplifting spree.
The Irish News details that Ireland's Justice Committee has heard that Catholic police officers in Northern Ireland are not sent to their home communities due to the threat from dissident republican terrorists.
PSNI Assistant Chief Constable Alan Todd, speaking in Dublin, said in an ideal world, a Gael from County Tyrone would be stationed there.
However, he added that this is not the case, saying: "Dissidents have targeted families because their young folk have joined the police service."
The threat level from dissidents in Northern Ireland remains severe.
TV licence figures
And finally, inside the Belfast Telegraph, TV licensing figures revealed that more than 800 young people aged between 18-25 were caught watching television without a license in the past year.
TV licensing is reminding students that they could face prosecution and a fine of up to £1,000 if caught watching live TV or BBC iPlayer on any device.
However, there is a licensing loophole - the TV Licensing website states that students could be covered by a parent's license if a student's out-of-term address is covered by it.