Man spent dead neighbour's £6,000 on pizza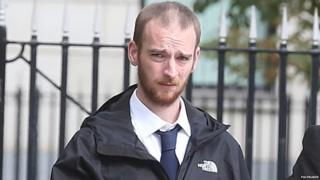 A man who spent £6,000 of his dead neighbour's savings on pizzas has been told he faces jail.
Robert Sharkey, 24, of Grays Hill, Bangor, was convicted of 11 charges last month after failing to report the woman had died, and then stealing from her.
The judge said he had committed a "wicked series of offences".
These included using one of Marie Conlon's debit cards to buy almost £6,000 worth of pepperoni pizzas.
It occurred when he lived above her flat in Larkspur Rise, Poleglass.
The judge told Sharkey: "In any view this is a wicked, wicked series of offences against a decent woman who was clearly vulnerable because of her age."
"This was disgraceful behaviour, it confronts every feeling of right-thinking people."
The court heard that 68-year-old Marie Conlon died at her flat in January 2015.
She was described as "an extremely private person" who made little attempt to keep in touch with her family.
Sharkey has admitted that on October 2015 he noticed Ms Conlon's post piling up in a communal area of the flats and kicked her door in.
He saw a handbag and money, and told police that he took around £50 because "at the time I was worried about money."
As for discovering Ms Conlon's remains, he said he did not call the police because he was worried about calling them.
He had been on probation after previously being convicted of disorderly behaviour.
The court heard that Sharkey memorised the details of Ms Conlon's Bank card, and a later one issued to her address five months later.
Over two years he used the details to buy almost £6,000 worth of pizza from Dominos.
Every day, he bought a nine-inch pepperoni pizza with anchovies and two cans of juice to be delivered to his own address in the same block of flats.
'Fish guy'
The staff at the pizza company were so used to this that they referred to him as the "Fish Guy".
When police officers entered Sharkey's flat they found piles of empty pizza boxes from his online purchases with Ms Conlon's bank card details.
Ms Conlon's pension was still being paid into her bank account because everyone except Sharkey was unaware of her death.
The card was used to buy services from O2, Sainsbury's and Power NI.
The court heard that Sharkey was careful to pay the rates bill on Ms Conlon's flat to avoid discovery.
When ordering online he used an old phone and swapped SIM cards as another method of avoiding discovery.
In total he defrauded £11,700 from Ms Conlon's estate.
The defence told the court that Sharkey had offered Ms Conlon's family his "sincerest, deepest apologies" and had found his arrest was "to a large extent a relief to him".
The judge remanded Sharkey in custody ahead of sentencing next Friday, and he told the defendant a custodial sentence was "almost inevitable".