Rape claim 'destroyed' Olding's reputation a court was told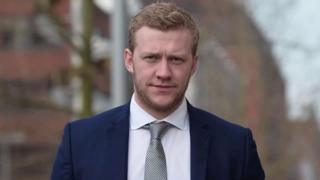 A lawyer representing former Ulster rugby player Stuart Olding has told a court that the decision to prosecute him over a rape allegation "destroyed" his reputation.
The lawyer also said Mr Olding had suffered a "huge financial detriment".
Mr Olding's legal team were in court on Friday to try to recover his defence costs following his acquittal.
His lawyer argued that the prosecution had been "flawed" and Mr Olding should have all of his legal fees refunded.
Frank O'Donoghue told the court his "reputation was destroyed to the extent that he could not follow his profession in this country again".
The 25-year-old former Ulster and Ireland centre is now playing in France, for Brive in the second tier of French rugby.
Mr Olding and former team-mate Paddy Jackson were unanimously found not guilty in March of raping the same woman at a house party in June 2016.
Neither was in court for today's court hearing. However, Mr Jackson's parents were in the public gallery.
The two players both moved to France after their contracts with Ulster were terminated last season.
Mr Jackson has made a similar court application to recover costs, and his case was heard in May.
Only Mr Olding's case was debated on Friday.
After four weeks of the nine-week rape trial, he was granted legal aid.
The hearing continues.