'NI Brexit electricity gamble deeply disturbing'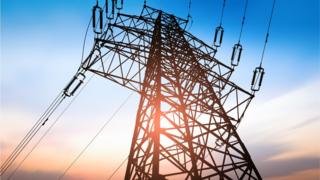 A former Liberal Democrat energy secretary has accused the government of being prepared to gamble with NI's electricity supply.
Ed Davey said any threat to the island's Single Electricity Market (SEM) was "deeply disturbing".
Contingency plans are being worked on should a no-deal Brexit cause problems with NI's power supply.
The potential impact of leaving the EU with no deal on energy supply is laid out in one of the government's no-deal papers.
Failure to agree an exit agreement poses a risk to the 11-year-old cross-border SEM.
The paper says "fall-back arrangements" may be needed should it collapse, to ensure "adequate" generation capacity.
In September, BBC NI News saw a leaked draft version of the paper.
It warned the collapse of the SEM could cause blackouts and price rises of 34%.
The published paper has been toned down in language and does not contain warnings in such stark terms.
Instead, it simply refers to "potential effects for producers and consumers".
According to the paper, part of the fall-back arrangements would ensure power "is able to flow over" the Moyle interconnector between Scotland and Northern Ireland.
It adds that "the government or the Northern Ireland Utility Regulator will act to seek to ensure adequate generation capacity is in place, as far as possible through a competitive procurement process involving existing generation and new generation investment alongside demand side measures".
Most experts have considered the SEM to be a relatively unproblematic part of Brexit.
The paper says: "The government is keen to work with the Irish government and European Commission to seek agreement that the Single Electricity Market will continue in any scenario, including no deal.
"Contingency plans are being worked on should a no-deal Brexit cause problems with Northern Ireland's power supply.
Brexit Secretary Dominic Raab said the SEM was the product of bilateral co-operation between London and Dublin and he hoped this would continue. Even if it did not, he said the UK would be prepared.
"We have got interconnectors and the regulatory measures that the government can take to make sure that Northern Ireland maintains the energy supply it needs," he said.