DUP leader says party 'not holding Conservatives to ransom'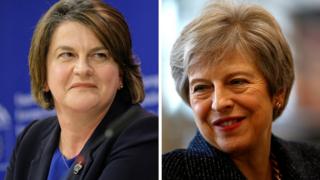 DUP leader Arlene Foster has denied her party is holding the Conservatives to ransom over Brexit.
East Antrim MP Sammy Wilson had warned his party would withdraw support from the government if it did not approve of the Brexit deal.
Theresa May relies on DUP support in key votes because she does not have a majority in the House of Commons.
A number of Conservative MPs have used social media to criticise Mr Wilson's remarks.
Speaking after a meeting with party colleagues in Portadown, Mrs Foster said the DUP was "putting forward what we believe is the best for Northern Ireland and what we cannot allow to happen is there to be a border between Great Britain and Northern Ireland".
"Great Britain is of course Northern Ireland's main market and therefore there needs to be unfettered access both backwards and forwards to Great Britain and of course we are constitutional unionists so we believe in the whole of the United Kingdom leaving the European Union as one," she added.
Mrs Foster said that while there was a "fluid negotiation" with regard to Brexit, the DUP felt "it was necessary to be very clear that for us the one red line in relation to the United Kingdom was one that we will stand by come what may".
"It's very important that we keep the constitutional integrity of the United Kingdom, but also the economic integrity and that's the point that we have been making," she said.
Earlier, Conservative MP Nick Boles MP tweeted: "A word in your shell-like, @eastantrimmp [Sammy Wilson].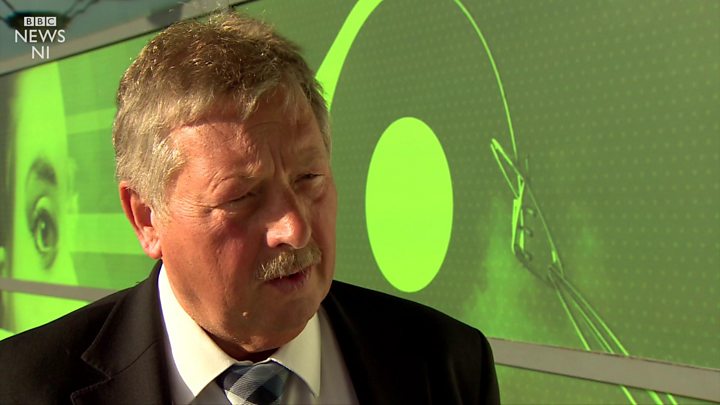 "Conservative leaders are chosen by Conservative MPs and Conservative Party members. Not by MPs of any other party.
"And we respond no better to threats than proud Ulster men or women do."
Mr Boles' Conservative colleague Heidi Allen tweeted a reference to the confidence-and-supply arrangement between the two parties, and the £1bn deal that arrangement guarantees for Northern Ireland.
The MP for South Cambridgeshire tweeted: "I really don't wish to be rude to Sammy (genuinely), but it does beg the question, why the heck did we pay £1bn for this! Hate to say I told you so..."
On Thursday, Helen Grant, Conservative MP for Maidstone and The Weald, told the BBC's Politics Live she didn't believe the DUP threat to withhold votes was serious.
The MP, who is vice chairwoman of the Conservative Party, said she thought the DUP was bluffing.
How much of the £1bn has been spent?
Government sources indicate that £430m of the £1bn cash related to the DUP's confidence-and-supply agreement has been allocated to departments in Northern Ireland and is expected to be spent by the end of this financial year.
The figure includes £100m for health transformation, £200m in capital money for the Department for Infrastructure, £80m to alleviate general pressures in health and education and £20m to tackle deprivation.
Just more than half of the confidence-and-supply cash - £570m - is yet to be allocated in this way, although much of it has been earmarked for a range of areas.
On Thursday, The Sun newspaper quoted Downing Street sources as saying that any move by the DUP to vote against the budget due at the end of this month "would be a clear breach of the Tory-DUP confidence-and-supply agreement - meaning Ulster would also have to pay back its £1bn bonus from the government".
DUP MP Emma Little- Pengelly retorted that her party would not back any Brexit deal that did not benefit Northern Ireland.
"Whether Theresa May is the leader of the Conservative Party is a matter for the Conservative Party," she told BBC Radio Ulster's Inside Politics programme.
The South Belfast MP added that if a "sensible Brexit" was not delivered, the DUP's support for Mrs May would not be forthcoming.
Referring to the confidence-and-supply arrangement, she added that in the circumstances of a bad Brexit deal, there would be "no confidence".
'Big step forward'
On Friday, a Downing Street spokesperson said that the prime minister would "never agree" to a permanent customs union with the EU.
Meanwhile, Irish Foreign Minister Simon Coveney has said that optimism about an imminent breakthrough in Brexit talks reported in newspapers in recent days is "probably not well founded" and people should be realistic about timeframes.
He said, however, that he hoped negotiators would be able to make "a big step forward" next week.
"The negotiating teams will hopefully have some political recommendations to feed political leaders early next week."
Meanwhile, Micheál Martin, the leader of the Republic of Ireland's main opposition party, Fianna Fáil, has written to Irish prime minister, Leo Varadkar, saying that in the run-up to the critical period on Brexit, he wants both Fianna Fáil and Fine Gael to state that they will not bring down the government.
Last month, Mr Varadkar wrote to Mr Martin asking to extend the parties' confidence-and-supply deal until summer 2020.