Belfast disturbance: Men stabbed and woman left with head wound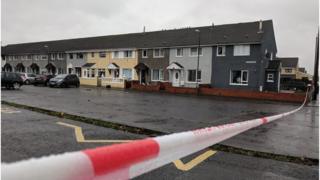 Two men were stabbed and a woman suffered a head injury in an incident in west Belfast on Friday night.
Police cordoned off part of Percy Street in the Shankill area as forensic officers examined the scene on Saturday.
A PSNI spokesperson said officers went to a disturbance at about 23:30 BST.
A 21-year-old man had been stabbed twice in the back and a 19-year-old man had stab wounds to his side and shoulder.
A woman in her 30s suffered a head injury.
All three were taken to hospital.
'Children stabbed'
Meanwhile, two teenage boys, aged 14 and 15, suffered puncture wounds in a stabbing in Portadown on Friday night.
It happened at the Bullring in Ballyoran.
On the PSNI's Craigavon Facebook page, a police spokesperson pointed out that the victims were children.
"Whilst the injuries are not life threatening, this is due to good fortune and not a reflection on the reckless and mindless violence of the perpetrator," a police spokesperson said.
"This has got to stop. We've warned for weeks about the situation at the weekend and for parents to step up, we're now at this point."