DUP threat over Brexit backstop deal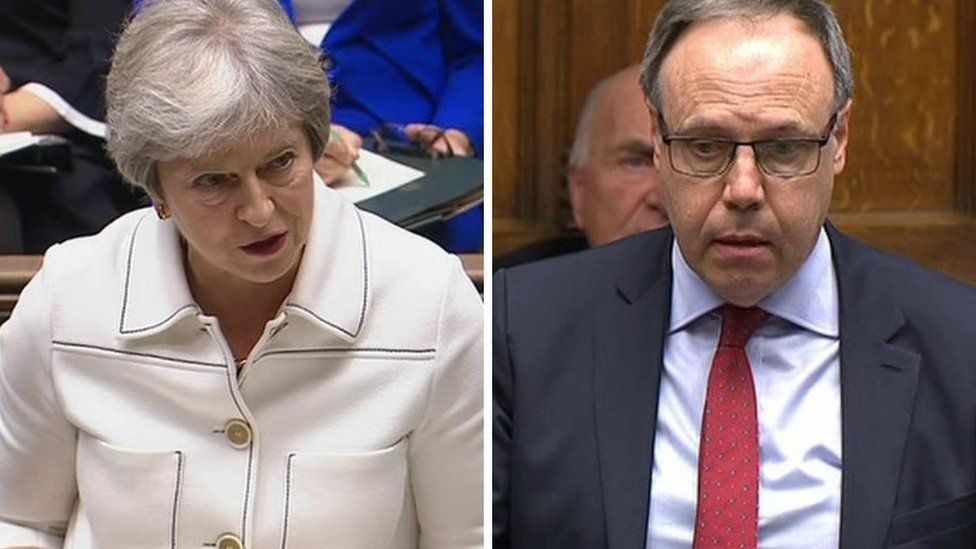 The Democratic Unionist Party's deputy leader has threatened to paralyse the government's domestic agenda if Northern Ireland's place in the union is jeopardised by a Brexit deal.
But, Nigel Dodds said his party would stop short of triggering a general election.
He was speaking ahead of a key cabinet meeting in London.
The EU's chief negotiator Michel Barnier told journalists on Tuesday that the EU and UK would work "calmly and seriously" in the coming weeks to reach an agreement which would not see a hard border between Northern Ireland and the Republic.
"We need more time to find this deal... and to reach this decisive progress," he added.
On Tuesday Taoiseach (Irish Prime Minister) Leo Varadkar said that the UK will not secure a withdrawal agreement unless there is a legally binding and operable backstop to ensure that there is no future hard border on the island of Ireland.
Speaking in the Dáil (Irish parliament), he said that has been his government's position, and that of the British government , and he has no intention of departing from it.
"All we are asking is that the United Kingdom honour the commitments that it has already made in black and white in the year gone by," he said.
"And I'm sure a country like the United Kingdom with its proud history would want to do no less than honour commitments that it made in black and white and in writing through the course of this year.
Mr Varadkar added that he still thinks a no-deal scenario is "unlikely".
Mr Dodds told BBC's Newsnight that his party was ready to withdraw support for the government on key domestic legislation if there is any move to "break up or fracture the union".
However, his warning was described as "profoundly undemocratic" by a Conservative Party MP.
Anna Soubry, who is pro-EU, also told BBC's Stephen Nolan Show that the DUP were a "blooming nightmare".
Mr Dodds spoke out after he sought assurances from the prime minister at Westminster that Northern Ireland will not be left in the EU single market when the rest of the UK leaves as part of any backstop deal.
The backstop is a safety net that will apply to the border if a wider deal or technological solution cannot keep it as frictionless as it is currently.
The UK rejected the EU's proposed backstop, which would see Northern Ireland staying in the customs union and large parts of the single market, and instead proposed a backstop which would keep the whole of the UK in the EU customs union for a limited period.
'Breathtakingly irresponsible'
Nigel Dodds told the BBC his party would "not want to pull the plug on the government and allow Jeremy Corbyn into No 10".
However, he warned that the DUP "can not support the government's domestic, financial, welfare and other legislation, which does not trigger the possibility of Jeremy Corbyn getting into No 10".
In what appeared to be a direct appeal to cabinet ministers due to meet the prime minister on Tuesday morning, he added: "I would say to colleagues we do not want this."
"We want to work with the Conservative and Unionist Party but if there was a suggestion that the union, our precious union as the prime minister describes it, would be broken up or fractured in any way by the Conservative Party, then we would have to say, 'how could we continue to implement your domestic agenda and your budgets?'
"We wouldn't push for a general election but there comes a point where you have to say enough is enough."
However, Anna Soubry branded Mr Dodds' comments "shocking".
She accused the DUP of "holding the rest of this country to ransom" and said it was "breathtakingly irresponsible".
The former minister added that while she found DUP MPs at Westminster "perfectly nice people" as individuals, they were a "blooming nightmare" when put together.
"They are, at the moment, not working in the interest of the UK nor in the interest of the majority of people in Northern Ireland," she said.