Priest shortage forces parishes to alternate Sunday Mass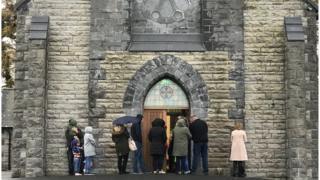 People have worshipped at the site of the Catholic Church in Boho in County Fermanagh for more than 1,500 years.
The Church of the Sacred Heart stands on the site of an early Christian monastery or nunnery where St Faber worked in the sixth century.
In the graveyard stands a carved tenth century Celtic cross.
But the continuous tradition of Christian worship in this parish has now been impacted by the shortage of priests.
For the first time anyone here can remember, two weeks ago there was no Mass on Sunday.
The Clogher diocese has introduced changes which means Mass is now celebrated on alternate Sundays in Boho and Monea.
It has not gone down well with everyone.
The Immaculate Conception Church in Monea is too small to seat the combined congregation, and several dozen parishioners had to stand outside during the first service following the reorganisation.
One parishioner tells BBC News NI they were not consulted on the changes which they fear will threaten people's local identity.
'People will start to drift away'
"We have a very strong community here. We have very good attendance at church and we have so many young families who are bringing their children," says the parishioner.
"This sense of community, the sense of belonging, people have a strong association with it.
"We fear we're going to lose out on that, that the community is going to become disjointed now because people will start to drift away.
"They'll either not go at all, or they'll go to other churches."
One man in his 90s, who has walked to church every Sunday in Boho, will now have to find a lift in order to go to Mass at another church.
For others in this rural community, the routine of their daily lives has been disrupted.
A Monea parishioner said their whole Saturday revolved around going to the vigil Mass in the evening and they always planned their day around that.
That service has now been scrapped.
'A great sense of loss'
More than 400 people have signed a petition to the Clogher diocesan administrator, Monsignor Joseph McGuinness, asking for their weekend Masses to be reinstated.
Msgr McGuiness says that the situation had become critical and the church had to deal with the reality that the number of priests will reduce still further.
"It's understandable that some people will find this very difficult and there will in some cases be almost a great sense of loss to people that the kinds of celebrations that there were in their churches previously may no longer be possible," he notes.
"Given the fewer number of priests, the convenient Mass may not necessarily be in their own parish, it may be within a church elsewhere in the area.
"However, we have to look again at the opportunities that this presents to us to do things in a different way, but in a way that keeps our churches alive as places of praise and worship."
He believes there is an opportunity for increasing the role of the laity to assist the mission of the church which he hopes will encourage more people to see a vocation in the priesthood in the future.
Last Sunday, nine men, including two prominent barristers, were ordained as Catholic deacons in Belfast.
Fermanagh Passionist priest, Father Brian D'Arcy, says deacons are not a new idea.
He worked with two deacons in Africa 40 years ago and believes it is not the solution to the priest shortage.
'Why go the halfway house?'
"They did funerals, baptisms, preached on Sundays and it was great variety and everything else but it wasn't the answer because when the priest died, the deacon couldn't say Mass," says Fr D'Arcy.
"Why go the halfway house? If it's married deacons, why can't we have married priests?
"It doesn't make sense. Everybody knows that and there's no point trying to kid the people anymore."
Fr D'Arcy takes the view that reducing Masses is "not going to be the ultimate answer".
"Eventually it will come to closing churches if we keep on doing the same thing.
"We have to understand that perhaps this was the problem they had in the acts of the Apostles in the old days and what did they do? They let each community choose their own priests.
"The idea of compulsory celibacy, that a priest is living on his own, is dwindling and not meaningful to many people anymore.
"It seems the laity are only involved in the tail end of it, they are not involved in the decision making, and until that happens, we won't even begin to understand the problem."