Jonathan Ferguson denies unlawful killing of Bernie McNicholl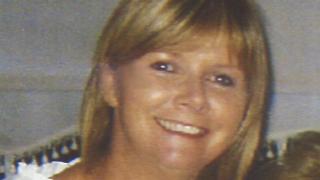 A manslaughter trial has begun of a County Londonderry man accused of causing a fatal car crash by standing in the middle of the road.
Jonathan William Thomas Ferguson (30), from Elm Park in Moneymore, denies unlawfully killing Bernie McNicholl.
She was a passenger in a car which struck a tree on the Moneymore to Cookstown Road on 12 April 2015.
The mother of two, who was in her 50s, was returning from a night out.
The driver Denise Mackle said she swerved to avoid a man who was standing in the middle of the road in front of her car.
The car went up a grass embankment and hit a tree.
A prosecution lawyer said "she was faced with an emergency situation and took drastic, evasive action to avoid striking him and almost inevitably killing him".
"Unfortunately her efforts to avoid killing him resulted in the death of her passenger."
Jonathan Ferguson was arrested nearby.
He told police he had been returning from a stag night and had started to walk home while trying to call for a taxi.
He said he was drunk and had consumed 10-20 pints and 5-10 shots.
He denied standing in the road and maintained he had fallen asleep outside a nearby house at the time of the collision.
'Criminal responsibility'
The prosecution lawyer told the jury that it is an offence under road traffic law for a pedestrian on a road to endanger his own safety or the safety of any other person.
If a person does an act that is unlawful or dangerous, albeit inadvertently, that causes the death of another person then they are guilty of manslaughter, the lawyer said.
He added that standing in a 60mph zone was "dangerous, unlawful and unfortunately a death resulted".
He said it was the prosecution case that Jonathan Ferguson was the person standing in the road and that criminal responsibility for the accident rests with him.
The trial at Dungannon Crown Court is expected to last one week.