Sewage problems 'may limit house building'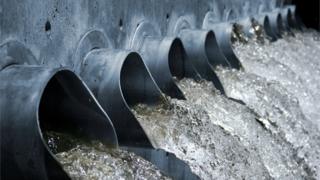 New home building could be severely impacted by a lack of capacity at more than 70 sewage treatment works across Northern Ireland.
Northern Ireland Water has advised no new homes be connected to the waste water network in affected areas.
It means developers would have to fund and build their own private sewage treatment works.
NI Water said it would take an extra £140m to sort out.
In a statement, the Department for Infrastructure said: "Funding for NI Water however has to be balanced against the needs of transport and other services".
It added that the department works "closely with NI Water and the utility regulator to determined the levels of funding".
NI Water say that if money is not found to deal with the problem it will have a clear impact on economic development in towns and villages.
Larne, Lurgan, Dungannon and Limavady are among the areas affected.
In August, BBC News NI reported that new housing developments had been banned in Saintfield, County Down, over the issue.
'Urgent attention'
Sara Venning, chief executive of NI Water, warned it only had enough funding in the 2015-2021 funding period to develop 19 out of more than 70 waste water treatment works and networks which require upgrading.
She said: "We are a big infrastructure business, we need to have the infrastructure in place to support development, to support tourism and to protect the environment so I believe it requires urgent attention.
"To give you an indication, 70 sites would require approximately £200m to remediate and we have been given access to £60m worth of funding so you can see that gap.
"So we would call, moving forward, that the importance of investing in infrastructure is recognised and supported."
If extra funding is not found to bring waste water infrastructure up to date the company warned it would affect Northern Ireland's housing development.
Ms Venning said: "Whether that is new housing development, whether that is industrial expansion whether that is tourism ambitions and waterways and beaches, there will be a clear and tangible impact right across our economy."
She added that NI Water was not calling for water charges to be introduced, but that funding did need to be made available.
No new connections
Ballycastle is one of the 19 sites which Northern Ireland Water has been able to develop.
A new £7m sewage works opened last month.
But in Larne it is a different story. The treatment works are at capacity and NI Water has warned warned housing developers that it will not be taking any new connections to its network.
Gavin McGuire, the director of the Federation of Master Builders NI, described the problem as a "ticking timebomb."
He said: "We want to see more development taking place but that's going to come at a cost to the builder and ultimately the client and if the infrastructure isn't here to actually build it is a worrying development."
He also said developers were still required to put in all the NI Water-approved pipe work and drainage systems but also needed to add an independent treatment works, which costs between £3,000 and £5,000 per property.
East Antrim UUP MLA Roy Beggs has raised the issue in Larne with the Department for Infrastructure.
He says new developments would have to build their own private sewage treatment works which could subsequently be passed over to NI Water.
"That is a very expensive option.
"I am also concerned from an environmental aspect in that smaller treatment works tend to be unreliable and there would be greater risks to the environment.
"If a new factory were to come to Larne they will need a sewage connection, that will not be possible, they will have to put in a very expensive sewage plant themselves and they may then choose to go somewhere else."