Gregory Campbell criticises BBC 'veil of secrecy'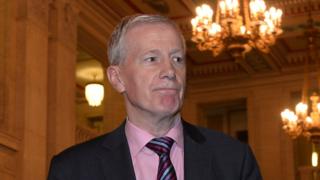 There has been a "veil of secrecy" over how the BBC spends money and commissions programmes, according to a Democratic Unionist Party MP.
Gregory Campbell also said there was a "complete lack of transparency and openness" in the corporation.
The East Londonderry MP made the remarks during a debate on the future of the BBC Parliament channel.
The BBC announced earlier this month that it was abandoning plans to make cuts to the channel.
The debate in Westminster Hall was led by Labour MP John Grogan.
'Never run out'
Responding to him, Mr Campbell was critical of the BBC.
"Would he agree with me that in the wider context what we need to see much more easily achieved within the BBC is more openness and transparency regarding how they, for example, commission programmes, the way they spend money, the way they deploy resources and there has been a veil of secrecy over much of the BBC?" he said.
Mr Campbell also said he had applied for a separate Westminster Hall debate on the matter.
"Hopefully I will be successful in the next few weeks, where I can elaborate to some considerable degree about the complete lack of transparency and openness in the BBC more widely," he said.
Margot James, the minister of state for the Department for Digital, Culture, Media and Sport, said that media regulator Ofcom was currently consulting on the BBC commissioning process.
However, she also praised the corporation.
"I could never run out of things to say about the BBC," she said.
"We are so fortunate to have this truly great public service broadcaster in our country."