Northern Ireland A&Es see 12-hour wait numbers rise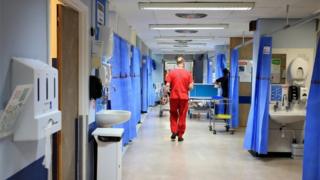 There has been a marked rise in the number of people waiting more than 12 hours in emergency departments over the last twelve months, according to new figures.
The number rose from 919 to 1,716 between September 2017 and September this year.
The figures were released by the Department of Health.
The draft ministerial target is for no patient attending an emergency department to wait more than 12 hours.
The Health and Social Care Board (HSCB) said that the increase in long waits was "simply not acceptable and the service is taking steps to ensure improvements are put in place".
'Needs to improve'
It said that emergency departments (EDs) had "experienced a challenging quarter" in the period between July and September 2018 and that there had been a 3.6% increase in people attending emergency departments in those months compared to last year.
"During the quarter ending September 2018, almost three quarters (71.3%) of people attending EDs were seen and treated within four hours, however, more people had to wait longer than 12 hours to be seen, treated and either discharged or admitted to hospital," it added.
"We recognise this needs to improve."
During September 2018, there were 66,244 attendances at emergency departments here - that's 623 more than in September 2017.