Stuart Olding legal costs claim 'without merit'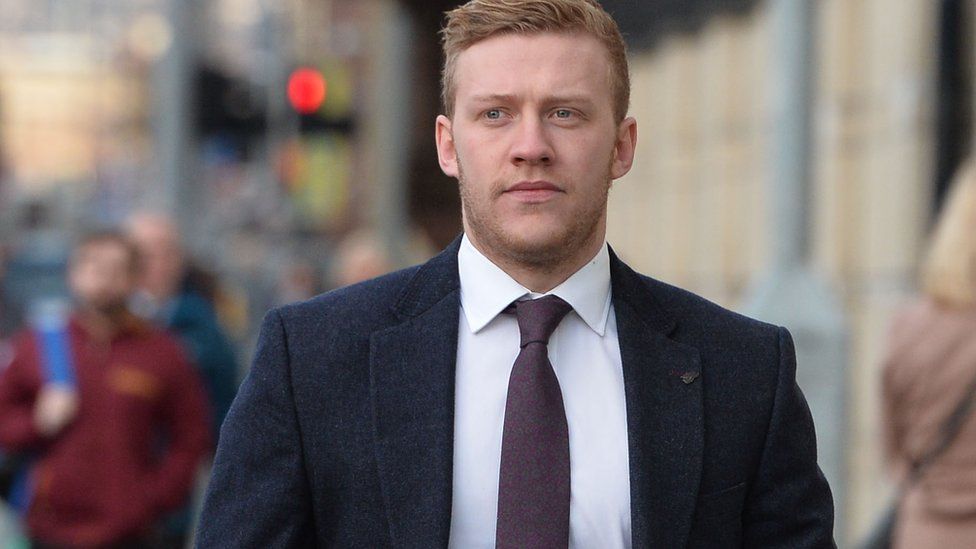 A lawyer representing former Ulster rugby player Stuart Olding has returned to court to try to recover the player's legal costs.
On Friday, a prosecution lawyer opposed the application.
The lawyer made it clear she was not trying to "undermine the verdict" in the case.
However, she said it was right that the case went to trial and that there was a case to be answered.
No indication on judgement
She concluded that the application for costs was "without merit, and should be refused".
After listening to the legal arguments on both sides, the judge said she would reserve judgment on the issue.
She gave no indication as to when she would issue her judgement.
Mr Olding was not in court for the hearing.
After four weeks of the nine-week rape trial earlier this year, he was granted legal aid. He is now attempting to recover his other costs.
The mother of Paddy Jackson was in the public gallery for the hearing and his legal team were also in court.
Mr Jackson and Mr Olding both moved to France after their contracts with Ulster were revoked last season.
Mr Olding's lawyer had previously told the court that the decision to prosecute him over the rape allegation had "destroyed" his reputation.
The lawyer also said Mr Olding had suffered a "huge financial detriment".
His lawyer argued that the prosecution was "flawed" and Mr Olding should have all of his legal fees refunded.