Varadkar: Irish government not preparing for hard border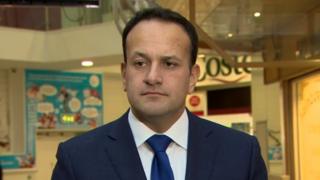 Taoiseach (Irish prime minister) Leo Varadkar has said he is confident, but not complacent that a hard border can be avoided post-Brexit.
Mr Varadkar was speaking during a visit to Londonderry on Friday.
He also responded to Lord Chief Justice Sir Declan Morgan's concerns about the lack of an executive at Stormont.
Sir Declan told BBC News NI it is "shocking" the Hyponatraemia Inquiry findings cannot be addressed due to the lack of an executive.
The taoiseach said people from all communities in Northern Ireland are "losing out" because there is no functioning executive as there are important decisions to be made around healthcare and major infrastructure projects.
"So we as co-guarantors of the [Good Friday] Agreement want to help the parties come together to agree to get the institutions up and running again, but we do appreciate that the uncertainty around Brexit hasn't created a good environment for that," Mr Varadkar said.
On the issue of Brexit the taoiseach replied "no" when asked if he was preparing for a hard border and said he was confident, but not complacent that a hard border can be avoided.
In the first of his engagements in the city on Friday, Mr Varadkar visited the city's historic walls and the Apprentice Boys of Derry Siege Museum before meeting with members of the organisation.
This included meeting its governor Graeme Stenhouse, general secretary Billy Moore and former assembly speaker Lord Hay.
Mr Moore presented the taoiseach with a book tracing the Siege of Derry.
Invitation
The taoiseach was also presented with a crimson tie, the official colour of the Apprentice Boys of Derry.
Mr Moore invited Mr Varadkar to wear the tie if he ever came to the city to watch a loyal order parade.
Mr Varadkar later visited the Ráth Mór centre in the Creggan.
A small group of about a dozen dissident republican supporters staged a silent peaceful protest outside the centre.
They held placards as the taoiseach walked the short distance from his car to the centre where he received a warm welcome.
After hearing a local choir he met a range of local community representatives.
Earlier on Friday, the taoiseach said he was looking forward to hearing the views of people on the political situation and the uncertainty caused by Brexit.
He again re-affirmed his government's commitment to cross-border initiatives including the A5 road between Newbuildings outside Londonderry and Aughnacloy in County Tyrone.
The taoiseach also attended a dinner for former Foyle MP Mark Durkan to honour his commitment to peace and reconciliation on Friday evening.