Holywood Halloween fireworks cancelled at last minute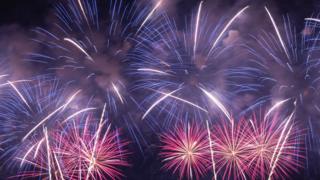 Almost 8,000 people were left disappointed after Ards & North Down Council had to cancel fireworks at the last minute at Seapark, near Holywood.
They were due to start at 20:00 BST on Saturday, but after a delay they were cancelled an hour later.
The fireworks were on a pontoon on Belfast Lough but technical problems arose.
A spokesperson from the council apologised and said a low tide had stopped them getting to the fireworks.
"In order to set them off we need to get a boat out to the pontoon," said Heather Shields, events officer with the council.
"Unfortunately the tide was very low this morning and we had some real difficulties in getting the boat out to it."
The fireworks may now happen at Christmas instead.
The annual display attracts between 5,000 and 10,000 people.