Newtownards: Group dressed as KKK members is 'hate crime'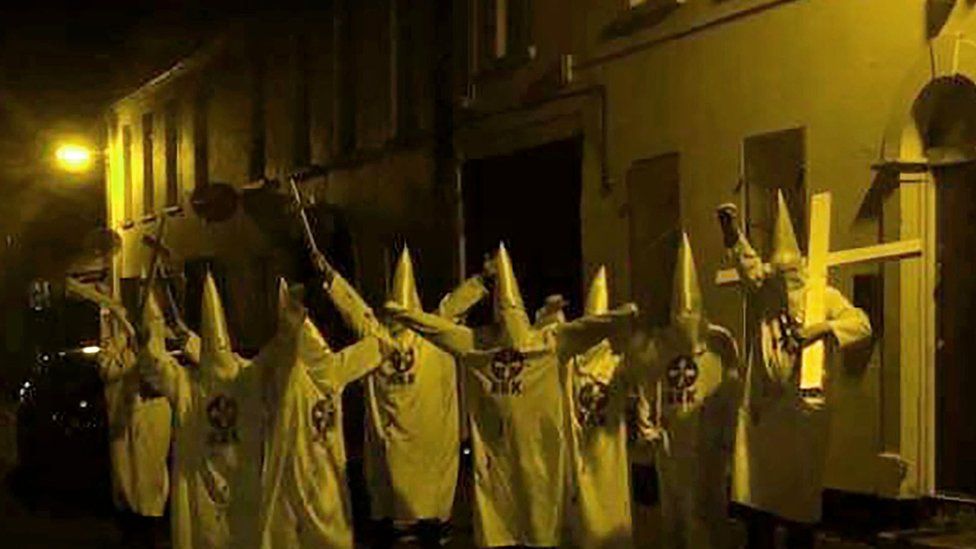 A report of a group of people dressed as Ku Klux Klan (KKK) members in Newtownards, County Down, is being treated by police as a hate crime.
Pictures emerged of the group posing near an Islamic prayer house.
The pictures were taken on Saturday night on Greenwell Street. The incident was reported to police at about 17:00 GMT on Sunday.
Strangford MLAs have condemned the incident.
PSNI Insp Richard Murray said: "Hate crime, in all its forms, is totally unacceptable.
"There's no place for it anywhere in Northern Ireland. We will investigate it and report the evidence to the PPS," he added.
BBC News NI has obtained footage of men dressed in KKK outfits in a JD Wetherspoon pub in the town.
JD Wetherspoon spokesperson Eddie Gershon said the group was "refused entry by door staff, but pushed past them into the pub".
He said: "They were told by bar staff that they would not be served. They remained in the pub for five minutes, unserved, and then left."
Alliance MLA Kellie Armstrong said the picture of the people dressed as members of the white supremacist group was a "clear demonstration of aggression" and "that is a hate crime."
The picture appears to have been taken a few doors down from the Bangladesh Islamic Centre in Newtownards.
DUP MLA Peter Weir tweeted that the pictures showed "malevolent intent".
Ulster Unionist Mike Nesbitt tweeted he was "disgusted" and would pass the picture to the PSNI Chief Constable.
What sort of group of idiots go round Newtownards dressed in KKK costumes? That the same group appear photographed outside the Islamic Centre shows malevolent intent. Totally unacceptable

— peter weir (@peterweirmla) October 28, 2018
Belfast Islamic Centre executive treasurer Dr Raied Al-Wazzan said the small Muslim community in Newtownards had been left shaken by the incident.
"They could have gone to anywhere in Newtownards, anywhere in Northern Ireland dressing in any uniform, but to go in front of an Islamic prayer room, it's totally making people afraid," he told The Nolan Show.
"They are afraid to come out or even to go there."
'Nazi uniform in front of synagogue'
Dr Al-Wazzan acknowledged that it could have been a Halloween prank, and called upon those involved to come forward and identify themselves.
"If they keep it quiet for the next 24 hours, that means it was a deliberate act," he said.
"If this is just a joke, these people should come forward and identify themselves.
"To go there specifically wearing that costume in front of the Islamic centre is not acceptable. It's similar to somebody wearing a Nazi uniform and going in front of a Jewish synagogue."
One man, who did not want to be named, lives near a bar in Newtownards and told the BBC he saw the group go into it.
"We were disturbed by mens' voices. I looked out the blinds and saw men in KKK costumes. One was giving a fascist salute. They looked like proper KKK outfits - they had the flap that covers the face," he said.
"They were shouting and posing outside the pub.
"At about 02:00 GMT they came out of the bar so they had been allowed into it in their costumes.
"It's insensitive - it's not a laugh and it's not just about Halloween.
"Last year, a pig's head was thrown through the door of the Islamic centre.
"This is ethnically diverse town. What if a black family had been walking home from a Halloween party and been confronted with that?
"I was disgusted and also was saddened by the reaction on social media."
Ms Armstrong, who has an office near where the photographs are said to have been taken, said the KKK represented a "brand of hatred not wanted or welcome in the area".
She told BBC's Good Morning Ulster that people in the area were "disgusted".
"They were people who purchased KKK robes," she said.
"They were wearing hoods and carrying crosses and they happened to go outside the Islamic prayer house, they were in bars in the town, expressing religious intolerance - and that's a hate crime.
"Some are saying this is just a Halloween jape. No it's not. Everyone knows what the KKK stands for" she added.