NI newspaper review: Garvagh shooting and hosepipe ban admission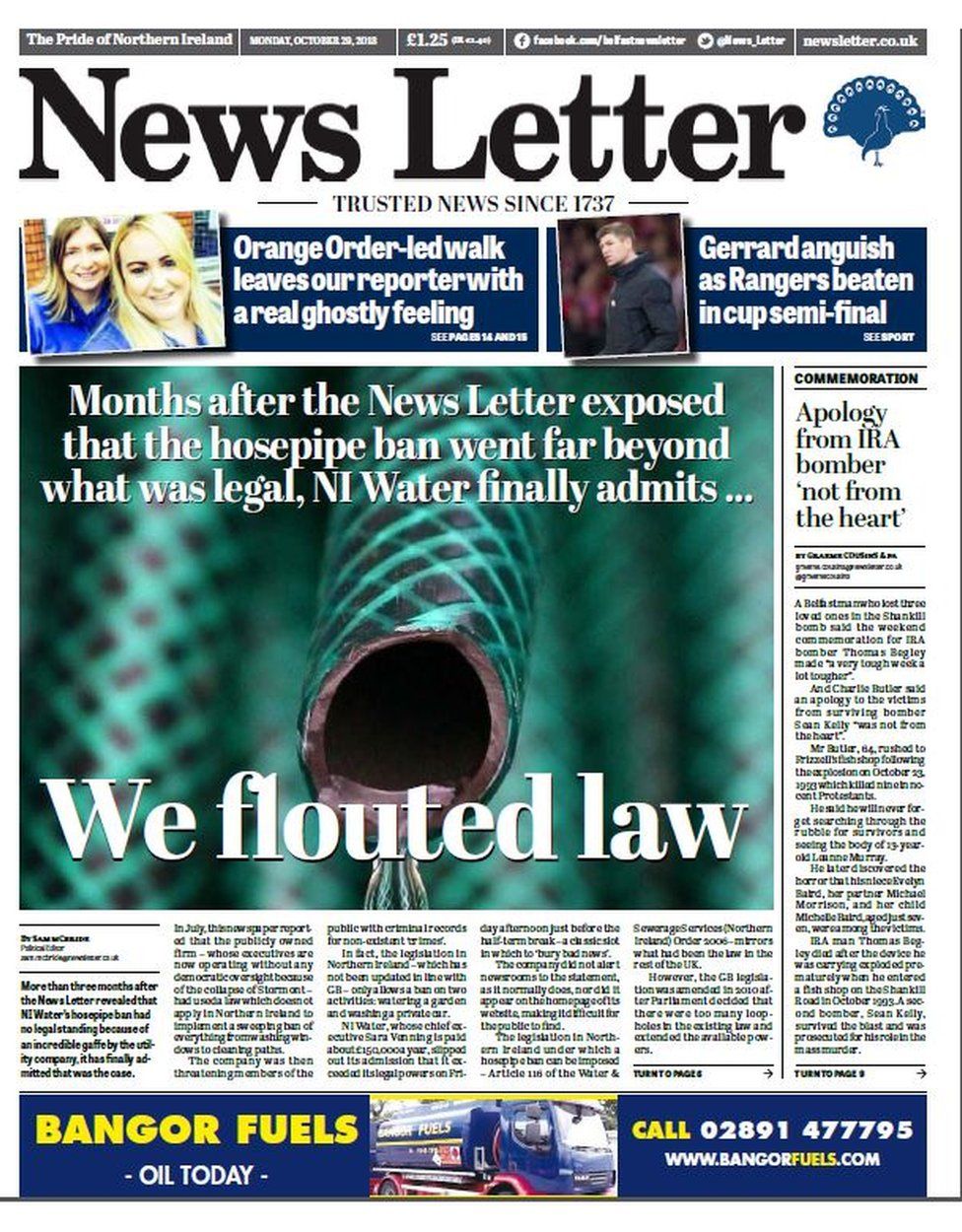 A shooting in County Londonderry, a potential cash injection for Belfast from the Chancellor, and an admission over a hosepipe ban are among the stories making the front pages in the daily newspapers on Monday.
The man was shot in the arms and legs and beaten with a bat during the incident in Garvagh.
His teenage daughter had offered them her piggy bank money to leave her family alone, and she was also chased by the gang who tried to set fire to items in the house.
SDLP MLA John Dallat tells the newspaper that paramilitary activity "has been gathering a head of steam for some time".
It reports that loyalists linked to the UDA are thought to be behind the attack.
The Daily Mirror is among the other newspapers reporting on the incident which police have described as "a sickeningly vicious shooting and beating".
It says the money will be aimed at regenerating the area around Bank Buildings following the Primark fire.
The fire in August led to 14 businesses being closed - possibly for as long as four months.
The News Letter says it had highlighted in July that the firm had used a law which does not operate in Northern Ireland "to implement a sweeping ban of everything from washing windows to cleaning paths".
It says the legislation in Northern Ireland, which has not been updated in line with GB, only allows a ban on watering a garden and washing a private car.
In a statement, NI Water said that it had conducted a review of its interpretation of the legislation and now accepts its interpretation was "too broad".
It apologised to its customers "for any inconvenience caused" and said that at "no time did it seek to mislead the public".
It says Prison Service figures reveal that more than 95% of applications for leave or temporary release from jail were granted for people convicted of murder.
Between 1 January and 30 September, people with murder convictions were released 386 times from Northern Ireland jails.
The paper says that "just 20 of the 406 applications - less than 5% - were turned down".
The Prison Service said that pre-release testing is a "crucial part" of its work and that "each year more than 4,000 people come in and out of our prisons".
"In all cases prisoners are subject to robust individual risk assessments before a decision is made to grant temporary release," it adds.
The re-election of Michael D Higgins as Irish president for a second term features in a number of the newspapers.
It says the 77-year-old has "represented his country with distinction both at home and abroad, and has repeatedly demonstrated that he understands the views of ordinary people from all parts of Ireland, north and south".
Finally, the discovery of artefacts believed to date back to World War One after the removal of more than 30 huts at Ballykinler army base in County Down, is covered in the News Letter and Daily Mirror.
A dog tag, a section of uniform, pipes and matches are among the items that were found.
The huts were originally built by soldiers in 1914-15 and Down County Museum is to recreate one of the timber structures based on an example salvaged from Ballykinler six years ago.
The museum's manager, Michael King, said they are hoping to trace the relatives of the soldiers who owned the items.
"We have got quite a lot of interesting things which tell you about the everyday life of the soldiers," he said.