NI newspaper headlines: Budget bonanza and building bake-off
By Ross McKee
BBC News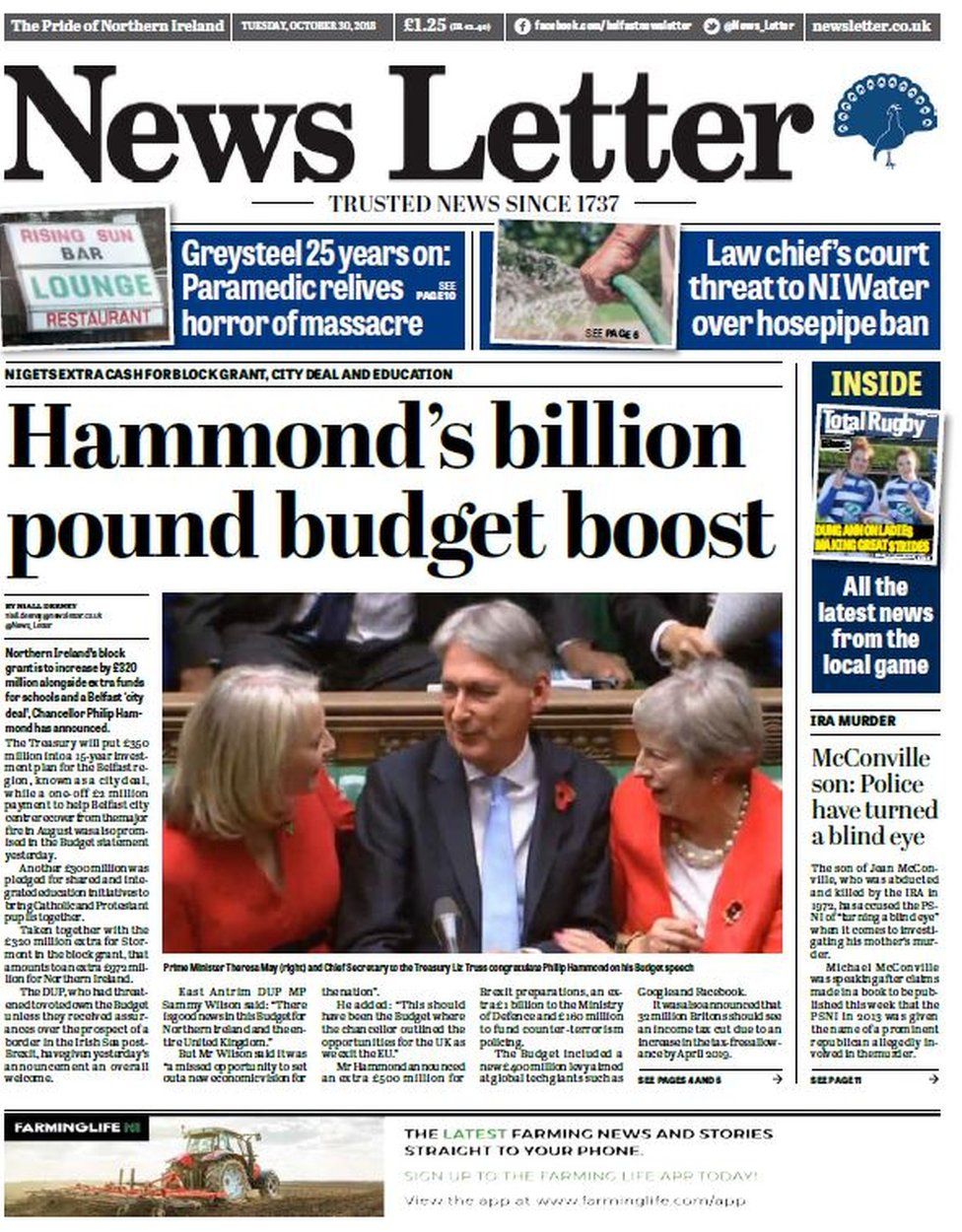 One man dominates the front pages of the daily newspapers in Northern Ireland on Tuesday - Chancellor Philip Hammond.
The Daily Mirror and the News Letter are among the papers to get their teeth into the Budget figures for Northern Ireland, which they say could mean about £1bn for the region.
Mr Hammond said his budget will mean additional spending of £320m for Northern Ireland government departments in 2021.
He also gave the green light for a city deal for the Belfast region which will mean £350m of additional funding over 15 years.
In its editorial, the News Letter says Mr Hammond has been "particularly generous" in relation to Northern Ireland but ahead of Brexit, it ponders whether the Chancellor is "softening us up before a backstop is set in stone?".
In some pithy analysis from Irish News Business Editor Gary McDonald, he says Mr Hammond "actually talked more about public loos than Brexit" in his speech.
"Here's hoping the economy won't go down the toilet after March 29," he adds.
The newspaper says one of the men who dressed in a KKK outfit was separately photographed with Sharon Mellor, the girlfriend of UK national Front leader Tony Martin, although Ms Mellor said she was not with the group.
It says Ms Mellor was out for drinks with Mr Martin in Newtownards when they encountered the group and a photograph of her with one of the group emerged online.
The paper reports Ms Mellor, who lives in the town, saying that there "were quite a few (photos) taken by random strangers" before she was able to recall posing alongside a man dressed in a white robe splashed with fake blood.
In its front page, the Irish News says County Tyrone republican, Paddy Fox, whose parents Charles and Theresa Fox were murdered by the Mid Ulster UVF in 1992, is planning legal action against the PSNI after discovering his personal details from a police notebook ended up in the hands of the loyalist terror group.
Mr Fox said he was warned by police in 2004 that he might be under threat from loyalists, but he said he was not told at the time that the danger was linked to a security breach.
It is not known how the police notebook fell into the hands of loyalists.
PSNI Assistant Chief Constable Alan Todd said police were investigating and their "enquiries are continuing".
"We have conducted preliminary inquiries, but given the timescale involved, we have not been able to confirm the loss or theft of a police notebook from this period or area," he said.
UDA gunmen entered the Rising Sun bar in the County Londonderry village and shot dead seven people on 30 October 1993. Another man died later from his injuries.
Ambulance driver Adrian McAuley said he and a colleague had returned to base when they got a call about the shooting.
He said the smell of gun smoke is something he has never forgotten.
"You could almost taste it," he added. "It was burning into our eyes.
"The enormity of two people having to deal with that was a massive challenge."
Belfast City Hall, the Albert Clock, Mussenden Temple, and a now dormant Stormont were among the replica cakes created.
They were judged by celebrity chef Paula McIntyre and Jane Allen from Jane's Kitchen.
While judging the Stormont cake, baked by Down High School, which was first in the secondary school category, Paula did not mince her words.
"The Stormont cake looks empty too, which is good and really right," she said.