Weekly paper review: Christmas 'cancelled' and arson attack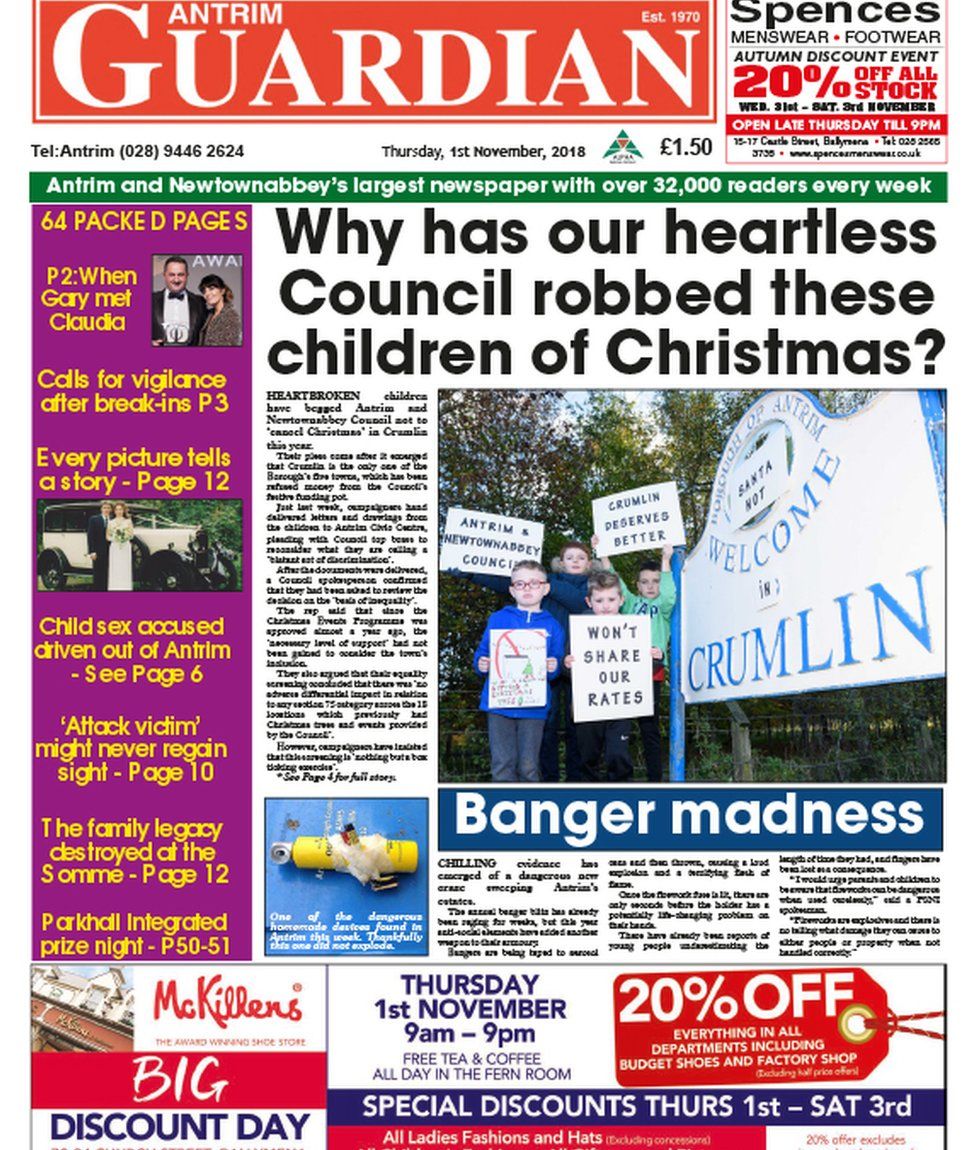 A festive funding fall-out, a shooting by masked gunmen and an arson attack are among the stories featuring in the weekly newspaper front pages.
The Antrim Guardian reports that some disappointed children have begged Antrim and Newtownabbey Council not to "cancel Christmas" in Crumlin this year.
It says their pleas come after it emerged Crumlin was the only one of the borough's five towns which has not been awarded festive funding from a pot of £220,000.
Campaigners have hand delivered letters as well as children's drawings of Grinches and crying angels to Antrim Civic Centre.
The council has confirmed it has been asked to review the funding decision on the "basis of inequality".
A council representative said that since the Christmas events programme was approved almost a year ago, the "necessary level of support" had not been gained to consider Crumlin's conclusion.
The newspaper also reports on Sinn Féin assembly member Declan Kearney's call for community vigilance after a number of break-ins within Antrim's Rathenraw estate.
It follows a burglary at the estate's Family Caring Centre and a separate incident at a nearby property in Norfolk Square last week.
Julie Tinsley from the centre said on social media that there was nothing of any monetary value at the facility and the "perpetrators' only gain was to cause damage, destruction, and distress to staff, volunteers and service users".
The Ulster Herald has an exclusive interview with former Sinn Féin MP, Barry McElduff, after he learned he will not face prosecution over a controversial video he posted of himself balancing a loaf of Kingsmill bread on his head.
It was posted on his Twitter account on the anniversary of the Kingsmills atrocity when 10 Protestant workmen were shot dead by the IRA in January 1976.
The Public Prosecution Service (PPS) said there was insufficient evidence to "provide a reasonable prospect of conviction".
Mr McElduff has again said he would be willing to meet the families of those who were murdered.
He said that he would "never do or say anything disparaging against them".
Mr McElduff admitted that the furore created by the video was "very challenging".
"For me, 2018 has been the most difficult year of my life to date," he said.
He added that he is "continuing to reflect on whether to re-enter and re-emerge in public or political life".
Elsewhere, the Herald highlights the achievement of 81-year-old runner Pat O'Loughlin in completing another Dublin Marathon.
It says it was the Castlederg man's 38th Dublin marathon to date and that "prayers, good cups of hot tea and an endless supply of jelly babies" were a key part of his successful formula.
Mr O'Loughlin said he was "relieved to make it to the end" of the race, and was driven to raise as much money as possible for multiple sclerosis (MS).
An arson attack on a car belonging to the daughter of a senior manager at the firm formerly owned by Fermanagh man Sean Quinn is highlighted on the front page of the Impartial Reporter.
The incident took place at about 23:20 local time on Tuesday at the home of QIH production director Tony Lunney in Ballyconnell, County Cavan.
Quinn Industrial Holdings chief executive Liam McCaffrey has warned "lives will be lost" if politicians and the authorities on both sides of the Irish border do not properly prioritise and resource the issue.
Inside the paper there are tributes to 84-year-old Fred Clarke who died in hospital last month (24 October), two days after a tree felling accident.
Mr Clarke moved from Cloverhill in County Cavan to Lisnaskea in 1973 with his family.
He had lost part of his right leg in a farming accident involving a tractor mower in July 2013, but his son Grant said that this did not slow his father down.
"These last four years he did more work on the land," he said.
"It didn't hold him back."
The 45-year-old man was shot in the arms and legs and beaten with a bat in what the police said was a paramilitary-style attack.
Police say he has "potentially life-changing injuries" as a result of the attack in the Kurin Lane area last Saturday night. The gang also chased the girl and tried to set fire to items in the house.
DUP councillor, Sam Cole, who lives nearby, said neighbours were also "traumatised".
"I pray the injured man will make a speedy recovery and his daughter will recover from witnessing what is everyone's worst nightmare," he added.
Sinn Féin MLA, Caoimhe Archibald, said there was "absolutely no justification" for the attack.
A former GAA official with Crossmaglen Rangers who is facing a series of historical sex abuse allegations, including a number against children, appears on the front page of the Newry Democrat.
The paper says the case of Thomas McKenna, 58, of Woodside Park in Bessbrook, was in front of Newry Magistrates' Court for the first time last Friday.
Mr McKenna is accused of a total of 17 offences.
The case was adjourned until 14 November, and he was remanded into custody at Maghaberry Prison.
In a statement, Crossmaglen Rangers encouraged anyone with information in relation to the investigations "to co-operate in full with the statutory authorities".
It said the former officer of the club "has been debarred from all activities in the association pending the outcome of the police investigations".
Elsewhere, the paper reports that Newry has been selected to host the 2019 UK and Ireland Pride festival and parade.
It says the European Pride Organisers Association have also announced that they will host their next conference in the city in March to coincide with the Brexit deadline.
Pride in Newry's co-chair, Pádraig Mullally, said they were "delighted to have won UK and Ireland Pride 2019 against a backdrop of setbacks for the LGBTQI community in the North of Ireland".
Elsewhere, the Ulster Gazette and Armagh Standard says that an offer of more than £400,000 has been tabled for an iconic three-storey building in Armagh.
The building at Gosford Place was previously used by Armagh and Dungannon Health and Social Service Trust.
It was also leased for a period to Armagh Council as office accommodation.
The newspaper says it is being sold as it is deemed surplus to requirements.