Fatal Cookstown crash: Accused told police 'it looks bad'
By Julian Fowler
BBC News NI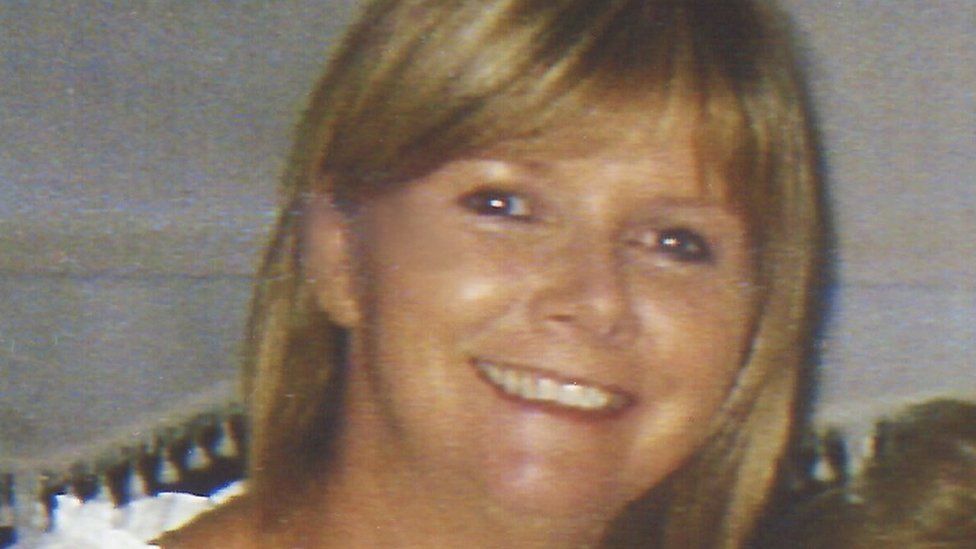 A man accused of causing a fatal car crash told police "it looks bad, but it wasn't me".
Jonathan Ferguson, from Elm Park in Moneymore, had been on his stag do on the night of the alleged incident.
The 30-year-old denies unlawfully killing Bernie McNicholl three-and-a-half years ago.
She was a front seat passenger in a car which struck a tree on the Moneymore Road on 12 April, 2015.
The driver, Denise Mackle, said she had to swerve to avoid hitting a man.
Ms Mackle added the man was standing in the middle of the unlit road, with his arms out, trying to stop traffic.
Mr Ferguson was arrested nearby.
During a number of police interviews he was asked if he had deliberately stood in the road to get a lift and replied, "no, definitely not".
"As far as I'm concerned, I wasn't in the crash, I wasn't involved in any crash, I certainly wasn't the cause of a crash and that's all I know."
He later added: "It looks bad but it wasn't me."
Ferguson told police that on the day of the accident he had been on his stag do.
During the course of the day he said he had drunk 10 or 20 pints of beer, five to 10 shorts and five or so shots.
He had gone to his parents' house to get a lift home but had fallen asleep on the sofa.
There he was woken by a phone call from his fiancée who said one of his friends who had arranged to stay at his house was waiting to get in.
He said he tried to call a taxi before deciding to walk to Moneymore.
The accused admitted he would have been "wobbly" on his feet and was constantly trying to ring for taxis.
He told police that on a previous occasion he had flagged down a car but he didn't recall flagging down cars that night.
During the interviews Ferguson admitted he was in the area at the time of the collision but maintained that he had fallen asleep at the driveway of a house.
When it was put to him that eight calls had been made on his mobile phone to five different numbers around the time of the accident, he said they could have been "pocket calls".
He said he was "lying in the muck" and sleeping on the grass or mud for a period of time.
Ferguson was asked by police why his clothes appeared to be clean and dry.
After transcripts of the police interviews were read out, the jury was shown a pair of jeans and a shirt the defendant had been wearing that night.
The jury also heard evidence from a police officer who said the driver had told her she swerved to avoid a man in the road and believed she had "clipped him".
A doctor who examined the defendant after he was arrested said he had been told to look for any sign of an injury caused by an impact with a wing mirror.
He confirmed he found no injury, no marks, no bruising and no sign of redness.
The trial at Dungannon Crown Court continues.