Stormont deadlock: MLA pay cut by 15% and could fall further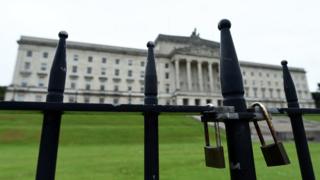 The first reduction in salaries of assembly members in Northern Ireland has taken effect.
The 90 MLAs have seen their pay cut by 15% (£7,425), with a further decrease to come next January.
Northern Ireland has been without an executive since January 2017, when the power-sharing parties - the DUP and Sinn Féin - split in a bitter row.
The Secretary of State will be in Belfast to meet the Stormont parties on Thursday.
A further cut in the new year of £6,187 will bring the salaries to £35,888 - down from the current £49,500.
Karen Bradley announced the decision to cut MLA pay in September, and at the time she wrote to the politicians outlining her move.
It was first suggested last year in a report written for the Northern Ireland Office by the former assembly chief executive Trevor Reaney.
Travel allowances are also affected, but staff who work for MLAs will not see their salaries reduced.
Last month, BBC News NI reported that more than £275,000 had been paid to MLAs in allowances for travelling to Stormont since the suspension of the institutions.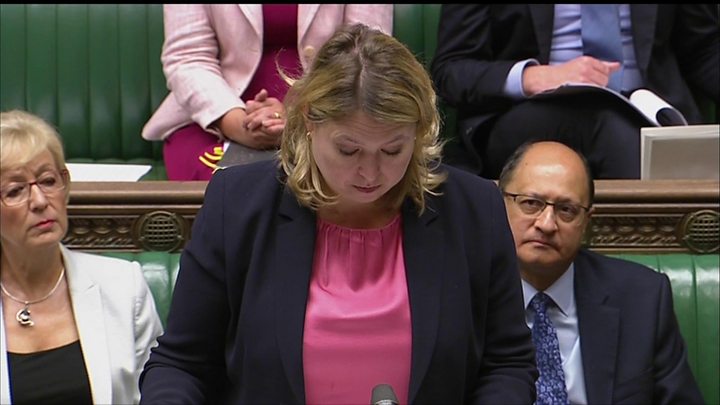 If there is a return to devolution MLAs' full salaries will be restored.
In the meantime, civil servants will continue to run public services, after the secretary of state brought legislation to Westminster last week to give departments more legal clarity to make decisions in the absence of ministers.
MPs passed the bill allowing ministers to make changes to MLA pay and allowances in March.
Politicians largely welcomed the cut to their wages when Mrs Bradley then announced the move in September.
Although the MLAs can still carry out constituency work, they are unable to fulfil some of their main duties, including passing any legislation or taking part in assembly debates.
In July, it emerged MLA pay had cost the taxpayer more than £9m since the assembly collapsed up until March 2018.
The Northern Ireland Office said it could not provide an updated figure.
Speaking in the House of Commons on Wednesday, Karen Bradley said she would meet the Stormont parties on Thursday to discuss her bill that gives civil servants more decision-making powers, as well as steps aimed at restoring devolution.
On Friday, Mrs Bradley and Cabinet Minister David Lidington will attend the next meeting of the British-Irish Intergovernmental Conference in Dublin.