NI women 'should have three free IVF cycles'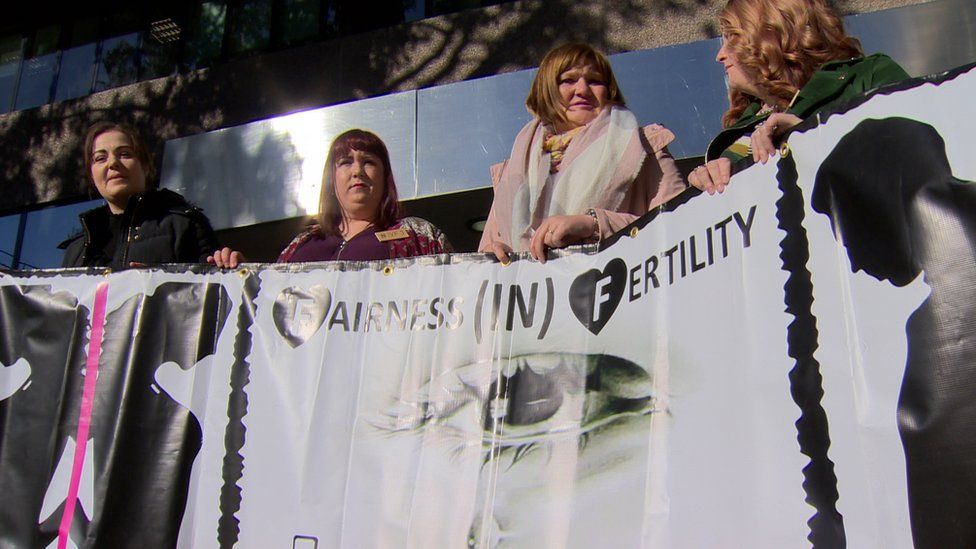 A woman who paid £23,000 for fertility treatment was among a group of people who handed over a petition to the Department of Health calling for equal access to fertility services.
Women in Northern Ireland are currently entitled to one free cycle paid for by the health service.
In Scotland, women are entitled to three IVF cycles.
For those whose first cycle fails, it can cost up to £7,000 if they choose to try again using a private company.
The petition gained 10,000 signatures, which means it can now be debated by government.
Deborah Cross, chairwoman of The Fairness in Fertility group is calling for Northern Ireland to be treated the same as the rest of the UK.
"I have had five cycles so far which has cost my husband and I £23,000.
"While the NICE guidelines if amended are too late for me, it's not too late for all these other women who are just starting out on their fertility journey.
"Northern Ireland must adopt the guidelines which says three free IVF cycles should be offered to women."
Fertility treatment is recognised as a core medical service.
While NICE, which offers national guidance and advice to improve health and social care, recommends that three full cycles of IVF should be offered to women under the age of 40 and one full cycle for some women over 40, in practice every country within the UK operates differently.
For instance, Scotland offers the gold standard where the government funds three IVF cycles and in Wales, two cycles are paid for.
England differs again, where every council decides how many cycles it will pay for.
The BBC understands that before the NI Executive fell, the then Health Minister Michelle O'Neill was considering increasing the number of cycles in Northern Ireland to two.
Karen Mullan said that after her one free attempt failed, a friend offered her the money to attend a private clinic.
"We wanted a baby so badly. After our one chance on the NHS failed we thought that was it.
"Our hopes were dashed, but we had frozen embryos left over - they belonged to us but we couldn't use them on the NHS.
"Then a friend, in fact a guardian angel, stepped in and gave us the money to go to a private clinic. We got pregnant and now have three-month-old twins. "
The group handed the petition to the Permanent Secretary Richard Pengelly.
While the Department of Health has been reviewing the fertility issue any change will require a health minister being in office.